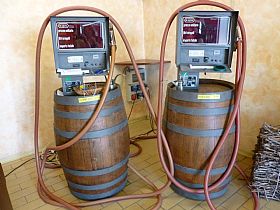 BYOB - And Fill It Up
A unique store found in many Italian towns is the cantina for vino sfuso. Literally translated as "loose wine", they sell you their vintages by the liter, siphoned directly from the barrel into the bottle that you provide. Many people keep five liter jugs - one for red and one for white wine - to be refilled weekly.
The in-town stores are normally small, and often they do not have signs. You may need to ask someone where to find a vino sfuso shop, but once you've located the place you can buy decent (and sometimes, fantastic), locally-produced wine at rock-bottom prices. Some offer the premium regional varietals; others have a rather generic homemade "red" or "white" vino da tavola (table wine). Normally you are allowed to taste before buying.
If you cannot locate a sfuso shop in town, many wineries also offer the option to buy their basic level wine from the barrels, but don't forget that this is strictly a BYOB operation. Keeping a one-liter water bottle or two in the car while you're out touring is a good idea, so when you happen upon a winery you can get your fruit of the vine directly from the barrel.
Been there? Done that? Share your experience and tips!
Haven't visited yet? Have questions? Ask them here!