Have Your Fish, and Clean It Too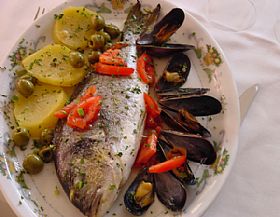 Since Italy is a peninsula surrounded by three seas, it is no surprise that seafood makes its appearance on plates all over the country. Fishing fleets bring in all manner of catch, and cold-water fish like cod and salmon are imported and readily available. Dining outside on a warm day overlooking the water can be a great pleasure. It can also sometimes bring a bit of a surprise.
Seafood, as it is served in Italy, may require a little more work than you're accustomed to. Most fish –- from shrimp to bass -- are brought to the table whole: head, tail, scales, and shells intact. Even in pasta dishes, the shrimp are usually left whole. Cooking it this way renders the fish moister and more flavorful. It also challenges the diner to successfully clean the critters without making a mess. If you're not accustomed to maneuvering with fork and knife to behead and debone a fish, ask the waiter to have the chef clean it for you; most are happy to oblige. Shellfish are your responsibility, though. You may find it easier to ask for an additional small plate to rest the shrimp on for leverage while you work with your fork and knife to extricate the delicacy from its shell.
Pesce on menus refers to fish, those with scales and fins. Frutti di mare refers to shellfish and other sea creatures such as squid, octopus and cuttlefish.
Seafood restaurants generally offer a wide array of antipasti, delicate plates of various fish-based concoctions. You may need to establish how many plates you're willing to receive, otherwise they'll keep rolling out until you say, "enough" (or "basta," in Italian). Many restaurants also offer a fixed-price menu which includes several of the antipasti choices, a pesce-based pasta dish, a whole-fish main course and vegetable, along with vino bianco (white wine), of course. It is a great way to try many varieties of the best from Italy's seas. Of course, meals a la carte can also be ordered.
With so much coastline offering spectacular views and delicious dishes, you'll want to give the fish a try during your Italian vacation.
Been there? Done that? Share your experience and tips!
Haven't visited yet? Have questions? Ask them here!