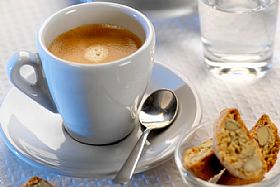 With more than 250,000 coffee bars within the peninsula, it's obvious that Italians are passionate about coffee. Walk down any street in any town and you're bound to hear the familiar hiss of steam from an espresso machine. We consume 38 million espressos per day! Now that's a lot of coffee! An espresso shot is the basis for building all our other coffee drinks.
There are rituals surrounding our caffé consumption, too. The morning cup normally contains milk; after lunch we turn to just caffé (espresso). Why? Milk after a meal would be a "heavy" ending, but we want the jolt of caffeine to keep us going after the pasta. Plain espresso is also said to aid the digestion.
Before you balk at a seemingly-strong, condensed espresso, though, you should know that a cup of drip-brewed coffee contains more caffeine than espresso.
Sugar is almost universally added to coffee in Italy, but not in the form of flavored syrups. Sugar dispensers rest atop every bar, and packets of it, along with sugar substitutes, are always available.
Regardless how you prefer your coffee, you're bound to find the right cup to satisfy your caffeine cravings. Here is a quick run-down on the most popular brews.
Caffé: espresso brewed into a small cup. It should have a crema on top, a light layer of golden froth.
Caffé Macchiato: espresso "marked" with a dollop of steamed milk froth.
Caffé Latte (or Latte Macchiato): a shot of espresso in a larger cup that is then filled with steamed milk, the Italian equivalent of a café au lait. A latte macchiato is often served as a cup of hot milk with a shot of espresso on the side for you to add into the milk. By the way, ordering just a "latte" will garner you a cup of milk, no coffee added.
Cappuccino: a shot of espresso with steamed milk, topped with creamy milk froth.
Marrochino: espresso dusted with cocoa, topped with frothed milk, then sprinkled with more cocoa on top. It is also sometimes crowned with whipped cream. The name varies region by region, sometimes it is also known as a marocco, moretto or mocaccino.
Caffé Corretto: espresso that is fortified with a "corrective" agent - liquor. Frequently used corretti include grappa, anisette, brandy, or rum.
Caffé Americano: espresso is brewed into a larger cup and then filled with hot water, resulting in a weaker beverage that tastes more like a drip-brewed cup of joe.
Caffé Freddo: iced coffee, served into a tumbler. Can be delicious, but you have to find the right bar, the one that makes it slushy, and with the right amount of sugar. Otherwise all you get is cold coffee.
Caffé alla Nocciola: Hazelnut coffee... a rising trend... give it a try!
Been there? Done that? Share your experience and tips!
Haven't visited yet? Have questions? Ask them here!