Mamma Agata: Simple and Genuine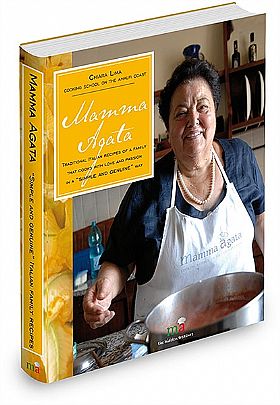 If you have searched the web looking for activities to do while vacationing on the Amalfi Coast, there is no doubt that you have already read about Mamma Agata and her incredible cooking school in Ravello. The online reviews rave about her classes, and, having had the pleasure of being at Mamma Agata's on a few occasions, I can understand why. A day with Mamma Agata and her daughter Chiara leaves you with that cozy, warm, feeling you get when you spend unforgettable moments with new friends.
You can imagine my surprise when I got my copy of "Simple and Genuine", Mamma Agata and Chiara's cookbook: I opened it up expecting to find "a cookbook", and instead that same warm feeling came out of the pages. It was like being taken back to Ravello, on Chiara's deck, with Mamma Agata eternally busy in her kitchen, yet always ready to lend you a smile. From the cover all the way down to the last page this book has the warmth of the Italian family traditions, and it truly transmits the joy which comes with genuine simplicity. It's not only about recipes, it is about life, it is about love.
If you are fond of Italy, "Mamma Agata: Simple and Genuine" is a must have. It is an instant trip to the real Italy, more powerful than any book you have ever seen: while you cook together with Mamma Agata, discovering her secrets, all of your senses are captured and you are suddenly transported to her Hidden Treasure. And when you are back, your guests will be amazed at how you master Italian cuisine!
Been there? Done that? Share your experience and tips!
Haven't visited yet? Have questions? Ask them here!