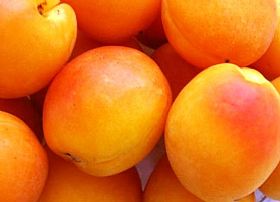 Campania is the leading region in apricot cultivation. The fertile volcanic soil around Mount Vesuvius is rich in minerals, especially potassium, which gives apricots their characteristic taste. One-fifth of Italy's apricots come from Campania, and the majority of those come from the Vesuvius zone. In fact, 50,000 tons of the fruit is grown here annually, spread out over more than 2,000 hectares of orchards (5,000 acres) in 18 towns in the province of Naples.
The regional variety known as Albicocca Vesuviana is characterized by its medium-smallish size and its yellow, sugary pulp. The orange skin is appealingly smudged with red and gives off an intense fruity fragrance to match its sweet flavor.
It is thought that the species was originally brought to the Naples area from Greece, and the climate and soil here provide optimal growing conditions. It's certainly not a new hybrid: the albicocca vesuviana was described by Neapolitan scientist Gian Battista della Porta in 1583.
The fruit is harvested from May through July, and is destined for direct consumption, nectar and jam production, as well as dried for distribution worldwide.
Been there? Done that? Share your experience and tips!
Haven't visited yet? Have questions? Ask them here!