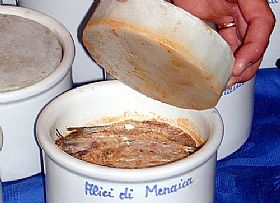 The villages scattered all around the Cilento coast maintain a very ancient fishing technique, but non so closely tied to it than the pretty town of Pisciotta. This special net was once used everywhere around the Mediterranean coasts, but nowadays survives in only a few places in Italy, replaced by new, modern fishing techniques.
The product is called "alici di menaica" because the nets used are named "menaica." The fishermen go out at sunset when there are calm seas, between April and July, and extend the special nets across a swatch of sea. This blocks the larger anchovies from swimming out to sea. The nets are hauled and the fish picked one by one from it. They are cleaned in saltwater brine and processed immediately onboard. The cleaned and gutted fish are placed in terracotta pots between layers of sea salt. Then they are taken ashore and stored in cool, humid maturing caves for three months.
The juice, called colatura, is drained off and used to flavor pasta, foccaccia, and other dishes, while the fish are packed in jars and distributed. The method brings out the unique and delicate flavors of the fish found in this area. Water, climate, fishing method, curing technique, and species all play a part to produce a delectable product that is now valued and designated by Slow Food.
Alici di Menaica have a light and sometimes rosy flesh and delicate flavor that bear no resemblance to that overpowering, strong taste found in anchovies overseas. It is eaten plain, marinated in lemon juice and olive oil, or cooked into local specialties. Because of the season that they are fished and aged, they are traditionally done curing right at Christmas time, so no Christmas Eve dinner in Pisciotta is complete without a plate of spaghetti sauced with the alici just taken out of the terracotta jars. The alici are also fried, served with a bit of local goat cheese, made into "meatballs," or larger ones are stuffed and baked.
Been there? Done that? Share your experience and tips!
Haven't visited yet? Have questions? Ask them here!