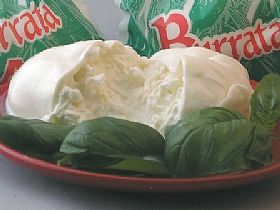 Burrata is a creamy fresh cheese that is a specialty of the Puglia region. It is especially prevalent in the Murgia area of northern Puglia, where the cheese graces almost every table as an antipasto or even as a main course during a light meal. It's a close relative to fresh mozzarella but it's a two-layer cheese - a skin of mozzarella is filled with a creamy mixture that is part dairy-cream left from the whey and bits of mozzarella. The name burrata means "buttered" and there's no denying it is buttery-creamy stuff!
Burrata is a relatively newcomer on the cheese scene, especially in Italy where traditional products are still made as they have been for hundreds of years. This one, however, came about as a stroke of genius, twice over! The first was stracciatella, those shards inside, that was a way to use up bits of mozzarella and cream after the primary production of mozzarella was done. The second was putting that stracciatella inside a thin skin of mozzarella-like cheese, that came about because of a snow storm. A dairy maker near Andria Puglia didn't want his stracciatella and cream to spoil but because of snow couldn't transport it on his usual run. So he tucked it inside the mozzarella ball layer to preserve it longer. The result is a super-creamy treat with an interior that has a texture similar to ricotta; the cream oozes out when the outer skin is cut into, perfect for soaking up with the crusty bread that the Murgia of Puglia is famous for!
Burrata is often served with ripe tomatoes and a drizzle of olive oil, or accompanying a salad.
Been there? Done that? Share your experience and tips!
Haven't visited yet? Have questions? Ask them here!