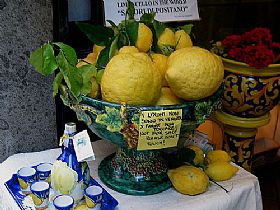 Once you have peeled your eyes away from the stupendous scenery of the Amalfi Coast, one of the first things you're bound to notice is the large lemons hanging from the trees. The enormous orbs are used to produce the locally-loved Limoncello, a liqueur gaining popularity around the world. It is an infusion of lemon peels in alcohol that is sweetened, sort of like a strong lemonade for grown-ups.
There have been cultivated lemon groves in and around Sorrento dating back many centuries. Limoncello was first made by monks, who traditionally produce medicinal elixirs and herbal liqueurs. Nowadays it is still considered good medicine when drinking it after a meal as a digestive. Little glasses of it are proffered with dessert at most restaurants along the Amalfi Coast. Fanciful bottles of the yellow liquid line shop shelves. Sorrento Lemons are perfect for the liqueur as their peels are very rich in lemon oils.
Whether you drink it as an aperitivo, between courses to cleanse the palate, or as an after-dinner drink, limoncello is like a shot of sunshine from Sorrento.
Want to make limoncello at home? You need a good recipe! Sign up for our free newsletter and get Gioconda's original recipe.
Been there? Done that? Share your experience and tips!
Haven't visited yet? Have questions? Ask them here!