The Scoop on Sandwiches, Italian Style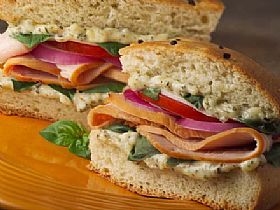 We know that dining is one of the highlights of any trip to Italy. Our cuisine is well-renowned and we're pretty proud of it. But let's face it; sometimes you just want a light lunch or a snack to tide you over instead of a heaping plate of pasta. Fortunately, Italians know how to serve up some pretty tasty sandwiches, too.
Frequently found in bars or establishments known as tavola calda, there are also shops known as a paninoteca; dedicated solely to sandwiches. Any alimentari (deli) shop will also custom-create a panino just for you.
Panino. Outside of Italy it is better known by its plural (panini), this is the basic sandwich found all over the country. A few slices of meat and cheese are arranged on a crusty roll, which can be then placed on a contraption composed of two hot, metal plates to warm it up.
Tramezzino. These are great for little snacks as they are more delicate, sort of like tea sandwiches. Soft white bread is spread with mayonnaise and then toppings such as tuna, hard-cooked egg, prosciutto (cooked or cured), or arugula are added. They are normally served in triangular halves.
Toast. This is not a mere piece of golden bread. It is, instead, your basic grilled cheese sandwich, by a different name. Soft bread is layered with cooked ham and cheese slices and then grilled.
Pizza Rustica. Pieces of pizza bianca (focaccia bread) are filled with meats, cheeses, and/or vegetables. It is normally served cold, but can be heated on request.
If the descriptions are enough to make you hungry, be sure to keep your eyes open for the little caffés and shops that offer these tasty tidbits.
Been there? Done that? Share your experience and tips!
Haven't visited yet? Have questions? Ask them here!