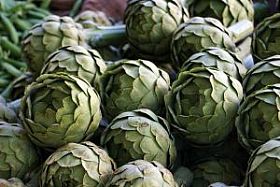 The 90% of artichoke's production in Campania is concentrated within the province of Salerno, specially into the Plain of Sele.
The variety known as "Tondo di Paestum" is characterized by medium sized flower-heads (no more than four per Kilo), spherical shaped, compact, pulpy, soft and thorn-free, green coloured with a violet shade (except of the median coast).This special artichoke has a vent on the top and matures between February and April.
There are numerous qualities making this vegetable so good; first of all the therapeutic and beneficial virtues, due to its saline and vitaminic contents: calcium, phosphor, iron, sodium, potassium, vitamin A, B1, B2, C, PP, citric acid, nolic acid, cinarine (that increases the biliary flow as well as the diuresis) and sugars. It is tonic, stimulates the liver, eases the cough, contributes to purify the blood, strengthens the heart, dissolves calculus and detoxifies. Thanks to the special organoleptic and morphological characteristics the Paestum Artichoke is really appreciated and used to prepare several local and traditional Italian recipes.
The European Union has "Geographically Protected and Identified" the Paestum artichoke has been on March 12th, 2004.
Been there? Done that? Share your experience and tips!
Haven't visited yet? Have questions? Ask them here!