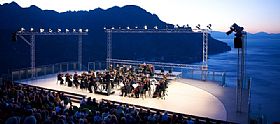 All over Italy, especially in the summer months, the piazzas and parks are alive with the sound of music. There are festivals dedicated to every genre of song, some in fantastic or historic settings, such as the stunning arena in Verona or the historic Baths of Caracalla in Rome.
Others are less known but no less lyrical. Wherever your travels take you, you're likely to find a musical event to brighten your trip.
VENICE. As part of the prestigious Biennale of Venice which is held every two years, contemporary music is featured in various venues around Venice, to highlight modern art in all its forms. The event takes place in even-numbered years.
VERONA. The spectacular Roman amphitheater known as the Arena of Verona is the beautiful backdrop for operas and symphonies all summer long, from June through September. Big names like Placido Domingo are bound to make an appearance here.
MILANO/TORINO. The MITO Settembre Musica festival stands for Milano-Torino, a month-long event with music of all genres being performed throughout September in both of these famous northern cities.
SAN REMO. Probably Italy's most famous festival, the San Remo Festival has been the career maker of many a musician, including Andrea Boccelli. It's televised nationally (and internationally) but if you want to see some of it in person, it's held in February.
BOLOGNA. The Independence Days concerts in September are primarily punk-themed bands, but some mainstream groups join the line-up in this festival geared toward the university crowd - appropriate for this well-known college town.
PERUGIA. Umbria Jazz is the biggest jazz jam in Italy, attracting international headliners and Italian musicians alike to celebrate the genre of jazz in the medieval city of Perugia. Umbria Jazz takes places every July.
SPOLETO. Another medieval Umbrian town renowned for a festival, the Spoleto Festival, officially known as the Two Worlds Festival, is a cultural, artistic and musical event that bridges the Old World with the New World. The 17-day event brings in big names from art, music and dance.
LIVORNO. This Tuscan coast town puts on a sort of modern version of Woodstock in a grassy field every July. The Italia Wave Festival is five days of rock, tecno, folk and ska.
ROME. The Eternal City likes its music - so much so that they built a park exclusively for it, the Parco della Musica. Administered by the Music for Rome Foundation, they put on a year-round calendar of concerts, dance, festivals and films. The City of Roma also hosts the Estate Romana (Roman Summers). The city's piazzas and parks come alive with local and national musicians playing from June through September.
NAPLES. Southern Italy's biggest rock festival takes place in the heart of Naples every July. International and European talent show up to jolt the already-pulsing city into the rhythm. Destination Neapolis is a start-band's "coming out party" - a chance for young bands to burst on the scene.
RAVELLO. The stunning setting of Ravello on the Amalfi Coast is a dramatic backdrop for the Ravello Festival, one of Italy's longest running festivals. Popularly known as the Wagner Festival for its emphasis on classical music, the event highlights art and performances as well as music, all summer long, in the parks, villas and overlooks of the town.
ISOLA DEL LIRI. This little-known town near Frosinone, south of Rome, is the "town of waterfalls" as it sits between two branches of the Liri River. It's also the home of the Liri Blues Festival, a 25-year tradition, every July. It's one of Italy's few festivals dedicated to Blues.
Been there? Done that? Share your experience and tips!
Haven't visited yet? Have questions? Ask them here!