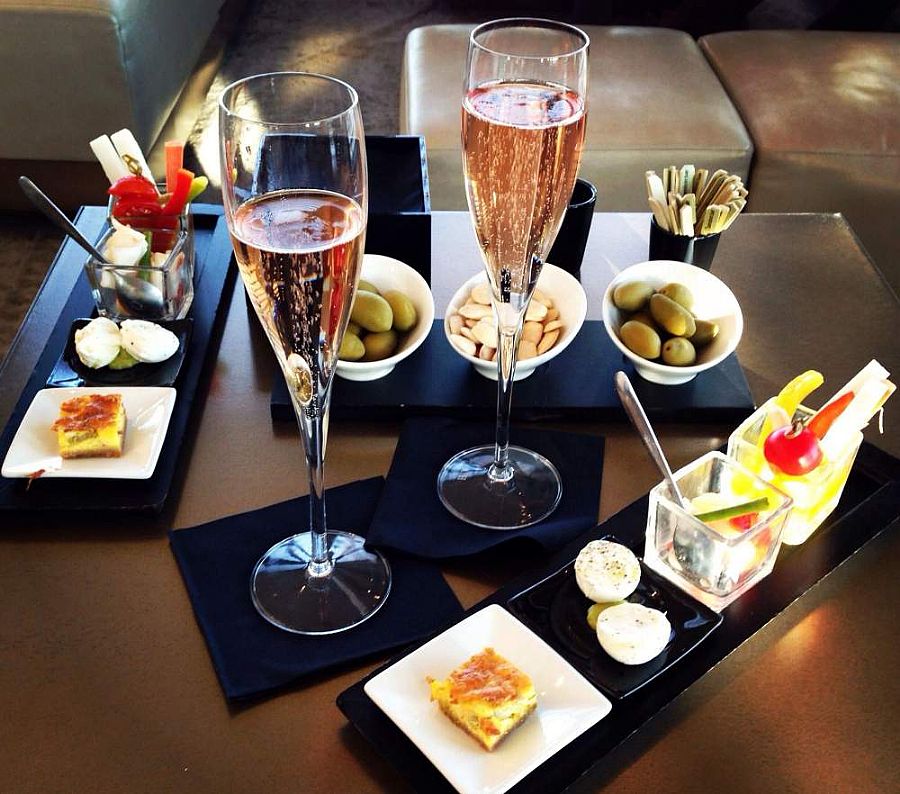 A pre-dinner drink for relaxing, socializing and enjoying a glass of vino with a few nibbles – sounds like happy hour! The aperitivo is a time-honored ritual, a drink in the early evening to sit and unwind, and enjoy the atmosphere of the piazza and good company. It's also said to stimulate the appetite for the upcoming meal.
The tradition is more often found in the north, where it was in vogue in the 1800s in elegant bars in cities like Torino, Genoa, Firenze, Venice, and Rome. It's now spread around the country.
Drinks come with snacks, sometimes as simple as peanuts and chips, though some bars offer more elaborate nibbles like finger sandwiches, pizza rounds, and vegetables. Some even have aperitivo buffets at a special price, making it a nice, light, inexpensive dinner alternative if you've had a big lunch. The appetizers are called "stuzzichini."
Each bar has its own signature cocktails, though wine, prosecco (a dry sparkling wine) and Campari remain perennial favorites. For those who don't want alcohol, try one of the non-alcoholic beverages specially made for the aperitivo hour, such as Crodino or Bitter. Non-alcoholic fruit drinks are always available, too. If you want to try something new, ask the waiter for the house specialty (aperitivo della casa).
Here's a run-down of the most popular aperitivo drinks:
Spritz – A Venetian classic, it's made with Campari or Aperol and prosecco. (But wait, there's more to it! We tell you in our newsletter!)
Bellini – An invention of the famed Harry's Bar in Venice, it's made with peach juice and prosecco.
Rossini – an off-shoot of the Bellini but with strawberry juice and prosecco.
Tintoretto – ditto, but with pomegranate juice
Sgroppino – a summer refresher, it starts with a dollop of lemon sorbet with a drizzle of limoncello on top and then the flute glass is filled with prosecco. In the south it's commonly made with orange instead.
Negroni - a bitter-sweet blend of red vermouth, Campari and gin
Been there? Done that? Share your experience and tips!
Haven't visited yet? Have questions? Ask them here!