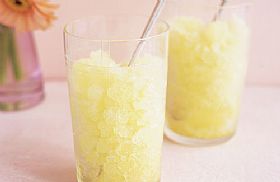 The dog days of summer…the old expression rings true throughout Italy when the heat hits. A visit during the summer months can offer many festas and beach-side fun, but it also means looking for shade and ways to keep cool.
While you'll not find glasses teeming with ice for your soft drinks or (somewhat ironically!) iced tea, there are lots of drinks that fit the bill. They are widely available, whether you're at a beach-front bar or a city caffe.
Frappe. Fruit-flavored milk shake type of drinks, they're thick and rich. Sometimes available in chocolate or vanilla flavor, too.
Granita. Basically a slushy, granitas are crushed ice drinks with flavored syrups added. The best ones are made in the south where hand-grated ice is used.
Caffe Shakerato. A shot of freshly-brewed espresso is put in a martini shaker with simple sugar syrup and is shaken with ice. It comes out with a frothy top and is served in a martini glass.
Caffe Freddo. Quite simply, cold coffee. Espresso is brewed and lightly sweetened, then refrigerated. It is generally not served on ice.
Limonata. There are several brands of bottled fizzy lemonade, which is also sometimes called Lemon Soda. An orange version, called Aranciata, is also available.
Te Freddo. Cold tea. Some bars make it fresh, others use a mix or sell canned tea, which always comes sweetened with either lemon or peach flavoring. Plain iced tea is not available (but can certainly be easily prepared in the kitchen of your vacation rental).
Succo or Spremuta. Bottled juices are served cold and a piece or two of ice can be added on request. Choose from popular succhi like apricot, pineapple, blueberry, or peach. Spremuta is freshly-squeezed orange juice, especially good when made from red "blood oranges".
Birra. A nice, cold beer is appreciated as much in Italy as anywhere else.
Been there? Done that? Share your experience and tips!
Haven't visited yet? Have questions? Ask them here!