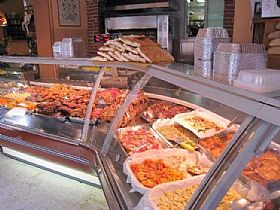 Staying in one of our villas provides you with a kitchen, saving you money on dining expenses. Fresh ingredients from the market are abundant and inexpensive. But when you don't feel like cooking, you still dine out on the cheap. There are several options that are easy on the pocketbook but strong on taste.
Rosticceria. All over Italy you'll find little shops called rosticceria where their specialty is flavorful chicken roasted on a spit. Some may have a few tables for dining in, along with vegetable side dishes and a few other items to choose from. Others are just the chicken, which you take to go. You can often get it hot or cold, and they will cut it up on request, so it makes a very convenient picnic food.
Mercato. While shopping for your fresh ingredients for your villa kitchen, don't overlook the other vendors at the mercato. Here you can find hand-cut prosciutto, a variety of salami and cheese, and the famous porchetta, roasted pork, all of which can make a tasty and inexpensive meal.
Tavola Calda. Literally "hot table", a tavola calda is sort of like a buffet where you pick from a variety of freshly prepared items which are then heated for you to eat right away, or packaged up for you to take "home". You'll usually find a selection of pasta or rice dishes, a few main course items, and a variety of veggies.
Gastronomia. There are gourmet food shops called gastronomia which, like a tavola calda, often offer prepared foods ready to eat. You'll also find a similar selection in supermarkets and at many fresh pasta shops (pasta all'uovo).
Enoteca. What may sound like a simple wine shop can offer up great value for your dining dollar. For the price of a glass of wine you are given little snacks called stuzzichini. Some with more elaborate eats may charge a small price for what amounts to a big meal.
Business lunch. You can find a quick and inexpensive lunch at many bars. It may look unassuming when you pass by at breakfast time, but come 1:00 p.m., blackboards go up to announce the daily offerings. From simple panini to salads and pastas, you will find ever-changing choices.
1+1 equals savings. If the above choices seem too bustling for you, you can still have an economical restaurant meal. You don't have to order the full monty; feel free to pick and choose from the courses according to your taste. A good way to save money is to think 1+1 – choosing one dish from either the antipasto or primo menu and then one dish from the secondo or contorno menu. You can also order a plate to share, "uno per due" (one for two).
Been there? Done that? Share your experience and tips!
Haven't visited yet? Have questions? Ask them here!