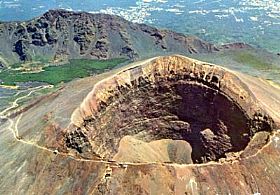 Mount Vesuvius may be the most recognized volcano in the world. The haunting peak forms the backdrop for Naples and is an immediately recognizable landmark. The brooding mount is the smallest active volcano in the world. It steams and spits occasionally to remind us that its still a potential threat.
The most famous eruption occurred in 79 AD when it emptied enormous quantities of lava and ash upon the Roman cities of Pompeii and Herculaneum, burying both cities and decimating them. They were not rediscovered again until the 18th century. The fascinating ruins are now some of the most visited sites in Italy.
Vesuvius is made up of a large cone, known as Cono Grande, with a gaping crater, the collapsed crater of the ancient eruption. A smaller cone and peak flank it. The highest point is Mount Somma at 3,770 feet (1,149 meters) high.
The slopes are marked by lava flows. Scrub and forest thrive in the mineral-rich soil while vineyards line up and flourish below. Lava mud slides are common through the gorges in the raining season.
The Vesuvius National Park was established after a fervent battle to maintain the wild and enchanting beauty of Vesuvius and to restore from a deterioration, giving it back to the generations to come. The park preserves not just wildlife and fauna, but also geological features where the natural process of a volcano and ecological balance are clearly seen. Vesuvius has a drier and sunnier exposure with typical Mediterranean vegetation, while Mount Somma is damper with woodland vegetation similar to the Apennine range.
The Vesuvius Observatory was built during the reign of Bourbon king Ferdinand II between 1841 and 1845 and it is located at 600 meters above sea level. It has survived some notable eruptions (in 1850,1855, 1861, 1868, 1872, 1906, 1929, 1944) without being damaged.
You can drive to the park, and enjoy the network of trails, or take a tour of the area. The views from the top are worth the trip - the entire Gulf of Naples opens up before you, from Sorrento to Salerno with the islands of Procida and Ischia in the range. Naples itself stretches out below. Enjoy a visit to the world's most notorious volcano when you find yourself in southern Italy.
Been there? Done that? Share your experience and tips!
Haven't visited yet? Have questions about Mount Vesuvius? Ask them here!