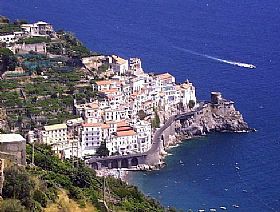 Amalfi is a graceful place: its cluster of white buildings gleams like a pearl in the strand of towns strung along the Amalfi Coast. It's also one of the more level; it ambles up the hillside from the water rather than clinging vertically to it like some of the other famous destinations here, making it a bit easier to walk around.
Amalfi is one of the most historic towns along the Amalfi Coast, having had a glorious history as a maritime republic whose status joined the ranks of coastal powerhouses like Pisa, Venice and Genoa. It was a trade bridge between the Byzantine and western worlds for centuries. Its importance in that historic trading league is celebrated every year with the Regatta of the Four Ancient Maritime Republics, which takes place every June, alternating among each of the four cities to battle once again for seafaring bragging rights. It's a spectacular event.
The city starts at the water's edge with a pretty promenade along the Mediterranean and a marina full of colorful boats and their international flags. The focal point of the historic center is the Piazza del Duomo, in front of the striking cathedral. The piazza is clustered with sidewalk cafes and elegant shops, but the sixty steps leading to the church beckon to be scaled to visit the Byzantine style structure that bears Moorish-influenced arches and decoration. Dedicated to St. Andrew, the Duomo di Sant'Andrea is a truly beautiful structure. Inside is the hidden Cloister of Paradise, dating to 1266, with a forest of columns, Arabesque arches and an amazing fresco. The crypt is highly decorated and worth a visit, too.
Italian mariner Flavio Gioia was an Amalfitan who is credited with inventing the modern-style magnetic compass and packaging into a portable container. There is a monument and piazza in his honor here in his hometown. The "tavole amalfitane" are ancient drafts of Amalfi's intricate maritime codes, preserved in the Civic Museum. The town has a long history as a center of paper mills, so be sure to stop into the Museo della Carta (Paper Museum) to see how the pretty products were (and still are!) made by hand. There are still some family-owned paper mills that carry on the tradition.
Looking around town and the surrounding hills, you'll quickly see that the primary product of the area is enormous orbs of lemons, picked fresh to make limoncello liqueur and used in local dishes, as well. The lemon motif shows up in regional ceramics and citrus scent fills the air as you meander about.
The Emerald Grotto is one of Amalfi's natural wonders, at Cape Conca. It emits an eerie emerald hue that emanates from its depths thanks to an underwater crevice that refracts sunlight.
Amalfi's maritime importance continues, as you can hop ferries and hydrofoils to Salerno, Positano and Capri, or you can hire a boat to take you to hidden coves to enjoy a day of private sun and surf. Buses connect the town to Ravello, Positano and Sorrento.
The architectural and artistic values of its monuments and historical buildings, the indescribable beauty of its landscapes, its folklore and traditions have made, and still make, Amalfi a place without comparison, so much so that it has been said: "For an Amalfitan the day he goes to heaven is just like any other day".
Been there? Done that? Share your experience and tips!
Haven't visited yet? Have questions about Amalfi? Ask them here!
Explore nearby towns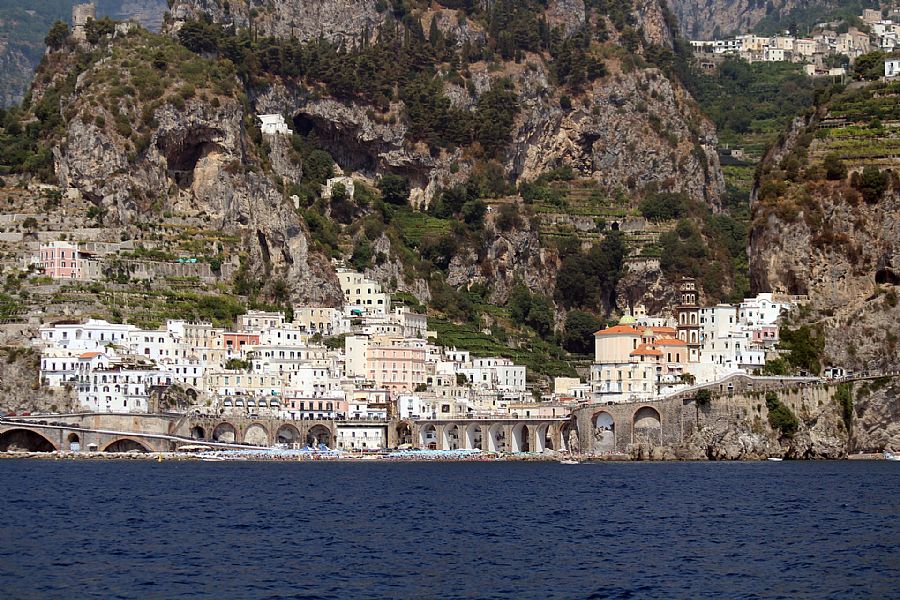 Go east from Amalfi for about five minutes and you'll bump into one of the smallest but most enchanting villages on Italy's Amalfi Coast - Atrani.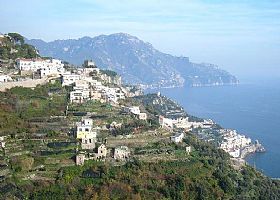 The hamlet of Pogerola is compact but packs a panoramic punch.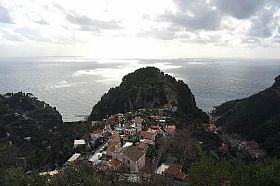 The hamlet of Pontone is officially part of Scala, in the hills above Amalfi.