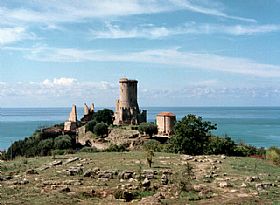 Velia is the name that the Romans gave to the ancient village of Elea, founded in 540 BC by the Greeks fleeing the Persian invasion of Ionia, on the western coast of present-day Turkey.

The village had been built on a promontory commanding the Tyrrhenian Sea. In Elea originated the Eleatic Philosophy School, founded by the famous philosopher Parmenide and carried on by the philosophers Senofane, Zenone, Leucippo.

For several centuries Velia-Elea has been the center of culture in the fields of philosophy and medicine. In the 88 BC the village became a Roman village and thereafter declined because its two ports where covered by the sand brought by the sea. The surrounding area was swallowed up by the marshes and the inhabitants left the coast to settle further from the sea, founding the village that still today is called Novi Velia.

Thus the ancient Velia disappeared from history, and only at the beginning of 1900 the archaeological excavations were started. In the sixties the excavations brought to light the remains of the village with the Porta Marina Sud, the Porta Marina Nord, the two doors who gave access to the town, and the splendid Porta Rosa (Pink Door), that put in communication the Northern and the Southern quarters of the village. The Pink Door is the only example of round arch to be found in Greek architecture in Italy.

Thousands of findings have been discovered and some of those, among which some statues of the Doctors of Velia and the marble head of Parmenide, are exhibited in the Palatina Chapel, standing on the highest part of the acropolis.
The excavations can be visited every day, from 9 am until one hour before sunset. Free guided tours are available from June to September. A comfortable visit takes approximately two hours.
You can reach Velia by train (the station of Ascea Marina is approximately 2.6 km/1.6 miles from the excavations) or by car.
Been there? Done that? Share your experience and tips!
Haven't visited yet? Have questions about The Excavations of Velia? Ask them here!
Address in Ascea Marina:
Contrada Piana di Velia.
Ph. (+39) 0974 972 396.