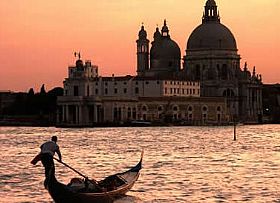 While the region of Veneto is practically synonymous with its most unique and famous city of Venice, there is an array of landscapes and lovely cities to enjoy, as well. Venezia, with its once-dominant republic, brought fame and prosperity to the area that spread throughout the region. The watery city on the Adriatic Sea is one of the most unusual and impossible places on earth and is a must-see. Its palaces, churches, bridges and back streets, all without cars, is an historic and gorgeous city.
But Veneto is so much more! The region's territory sweeps from the Venetian lagoon to fertile plains, gentle hills and soars up to the rocky spires of the Dolomite Mountains. There are countryside towns, art cities, industrial centers, beach resorts and ski centers.
Lake Garda is divided in half with its eastern shore in Veneto, along with Italy's biggest amusement parks. The Brenta River, lined with sumptuous palaces slices through its plains, and Cortina d'Ampezza, probably the most elite of Italy's ski resorts lies in the peaks in the northern part of the region.
Romantic Verona, the city of Romeo and Juliet, is a lovely town with a 2000-year old Roman arena still in use. Padova, the "City of Saint Anthony," boasts fresoces by Giotto and medieval monuments, while Treviso has a classy historic center worth exploring. Vicenza was elegantly adorned by Palladio's sophisticated designs and is a UNESCO World Heritage Site.
The region's wines are well-known, too: Prosecco, Valpolicella, Amarone, and Bardolino are produced in Veneto. The fare varies from seafood to hearty mountain stews, with rice and polenta showing up on the table as much as pasta.
Veneto offers a complete holiday destination, with a combination of tourist attractions, grand cities, beautiful countryside, alpine lake, and glorious mountains to explore.
Been there? Done that? Share your experience and tips!
Haven't visited yet? Have questions about Venice and Veneto? Ask them here!