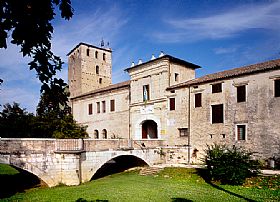 Portobuffole' may be the smallest town in the province, but it packs a pretty punch. The town of just 800 residents is compact, but noble and refined with pretty buildings highlighted by arcades. Cross the graceful bridge that once spanned the Livenzo River (now diverted) and enter the village through the Porta Friuli gate. You'll find yourself in a "chocolate box" town with an air of elegance to it. Wander around; you can't get lost but you'll soak in the atmosphere of the cobbled streets, brick buildings and little piazzas.
There are palaces and churches and museums to enjoy. The 10th century Torre Comunale is the symbol of Portobuffole' as it defines its "skyline". As you wander, be on the look-out for the lion of St. Mark; you'll find it everywhere, attesting to the town's ties to the Republic of Venice. Casa Gaia is for literature buffs, the noble residence of Gaia da Camino, who Dante included in the 16th canticle of the Divine Comedy. He was a friend of the da Camino family and a guest of her father Gherardo, the lord of Treviso, for two years. He was included in the famous poem, and also mentioned in Convivio. Visit the house and museum; there are splendid frescoes here. The Palazzo Comunale bears the crests of past rulers. There is a museum dedicated to cycling.
The Duomo (cathedral) is historical not only for the church itself but because before it was consecrated in 1559, it had been a synagogue. When restoration took place on the neighboring house, they discovered it had been the rabbi's home and uncovered a stone inscribed with a menorah and Hebrew verse. The spare facade of the church hides an airy bright interior with artwork and a majestic pipe organ.
Outside the old town center is the beautiful Renaissance-style Villa Giustinian, built in the 1600s by the Venetian Cellini family. It then passed to the Giustinian family. It is still a lovely place surrounded by a garden, open as a hotel, restaurant and winery, so you can go and enjoy a meal or a glass of wine in the sumptuous surroundings.
While you're here, taste the area's specialties, like gnocchi in duck sauce, veal, or one of the hearty soups.
Been there? Done that? Share your experience and tips!
Haven't visited yet? Have questions about Portobuffolè? Ask them here!