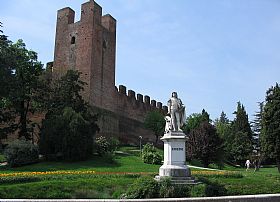 Castelfranco Veneto is a lovely gem set between the cities of Treviso, Padova, and Vicenza. The lively town of 30,000 inhabitants has a sense of vitality while retaining its historic center in pristine condition. The centro storico is still enclosed within the ancient protective walls, built by Treviso to defend against constant squirmishes with Padova in the 12th century. The castle came complete with towers and a moat.
Stroll the alleyways and arcades of the center to see the old town and its charming nooks and crannies. There are palazzi and courtyards to gaze at in the attractive town.
The Teatro Accademico in Via Garibaldi is a lovely and still active theater built in the 1700s and is one of the oldest active theaters in the region. The Renaissance painter known as Giorgione was born here. Giorgione is closely associated with Titian, and together they characterized the Venetian School of High Renaissance painting. The house where he was born is a museum dedicated to the artist, whose works are on display in the town's cathedral; don't miss the magnificent altarpiece. His paintings also hang in the prestigious Galleria Accademia in Venice. He is known for his sumptuous landscapes.
One of the landmarks of Castelfranco Veneto is its high Torre Civico, a tall clock tower capped by a dome. The city was home to the Venetian Podesta' from 1339 to 1797. There is a lovely garden known as the Parco Revedin Bolasco, while just outside town is the splendid Villa Emo, designed by Andrea Palladio. Castelfranco Veneto also sits in the heart of Prosecco country, where Italy's best known sparkling wine is made. Nearby towns of interest are Asolo, Padova, Verona and, of course, Venice.
Been there? Done that? Share your experience and tips!
Haven't visited yet? Have questions about Castelfranco Veneto? Ask them here!
Explore nearby towns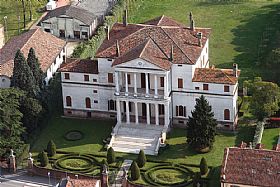 Piombino Dese is the only town in Italy washed by 5 rivers: Sile, Zero, Dese, Draganziolo and Marzanego.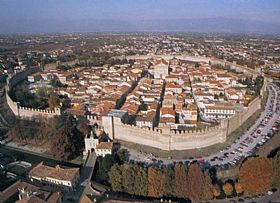 Cittadella is a beautiful walled town placed perfectly between Padua, Venice, Verona and Vicenza.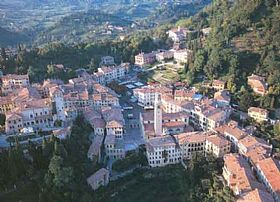 An Italian poet dubbed Asolo the "city of a hundred horizons" and its setting among foothills and mountains certainly gives that impression.