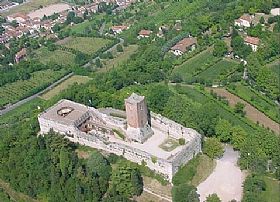 Montecchio Maggiore is located in the Veneto region, between Padova and Verona. Its proximity to Verona, the setting for Shakespeare's Romeo and Juliet, has given rise to legends revolving around the star-crossed lovers. The town was the inspiration and setting for the novella, which was originally written by Luigi da Porto in the early 1500s, and was later reprised by Shakespeare, whose fame exceeded its original author. Da Porto was from neighboring Vicenza and knew the territory well, using the story-book castles as inspiration. The name of the family was even taken from here - Montecchi (Montague in the original Italian version).
Today, the fortresses still stand with towers and heavy walls to bear testimony to the Middle Ages when protection was needed for these cities, but also as a lasting legacy to the legend. The Bellaguardia Castle is more often known as "Juliet's Castle" while the Castle della Villa is described as Romeo's family seat. Both were built by the powerful Scaligeri family around 1000 AD and the romantic ruins lend a beautiful backdrop to the town. Even more romantically, they're reached by walking up Via San Valentino.
Montecchio Maggiore is a lovely town in its own right, with an air of affluence. It has a gorgeous Gothic cathedral, and the Villa Cordellina Lombardi is a neo-Renaissance creation by Giorgio Massari with frescoes by Tiepolo. The Zannato Museum houses archeological and paleontology finds along with precious gems, as part of the civic museum in the center of the city.
Montecchio Maggiore is located just a few miles from Vicenza, about halfway between Padova and Verona, in the vicinity of Castelfranco Veneto. It is surrounded by rolling vineyards where the area's superb Valpollicella wine is made. The hills give way to the heights of the Alps to the north.
Been there? Done that? Share your experience and tips!
Haven't visited yet? Have questions about Montecchio Maggiore? Ask them here!
Explore nearby towns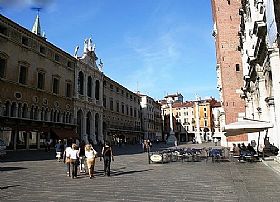 Located between the Venetian Prealps and the Berici hills, Vicenza is one of the oldest cities in the Veneto region.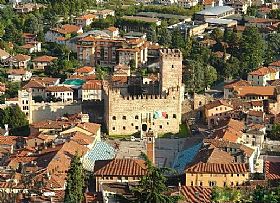 On the plains at the base of the Venetian foothills, Marostica is a well-preserved medieval city.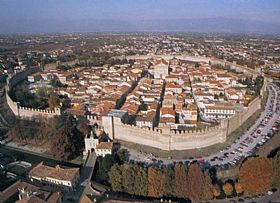 Cittadella is a beautiful walled town placed perfectly between Padua, Venice, Verona and Vicenza.