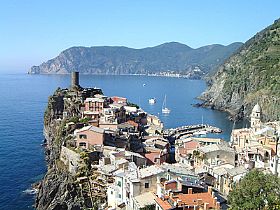 Liguria may be one of the smallest regions in Italy, but it's loaded with allures. The crescent-shaped sliver of land outlines the Mediterranean coast and is backed by the Apennine Mountains, with the Alps looming behind for good measure. It neighbors with Tuscany, Emilia Romagna and Lombardy before ending at the French border.

Some of Italy's most renowned coastline is found here, with the Cinque Terre, Portofino and San Remo all vying for your attention. There are fishing towns on the shore, steep stone villages inland, and the great port city of Genoa, Italy's most important commercial port. You'll find terraced hillsides bursting with flowers and staked out with lemon trees, olive groves and grape vines. Cliffs plummet to the sea, sprinkled with coves.

The city of Genova was a great maritime power and trading center that subdued the tiresome Saracens who had plagued the shores of Italy, and as such enjoyed great wealth and influence. Sea captain Andrea Doria and explorer Christopher Columbus were from here, and the port is still an important component of the city. There is a royal palace and sumptuous country villas to showcase its years of splendor.

Portofino is a swanky resort and harbor where yachts are moored in the azure water. San Remo retains the faded elegance of its heyday as the area's prime seaside town, when it was in the ranks of Monte Carlo and Cannes. The Cinque Terre is a dramatic piece of rocky coast with five picturesque fishing towns strung together along the seafront cliffs, connected by old mule and walking paths rather than roads. The Poets' Gulf is a glittering gem that has attracted literary figures like Dante, Yeats, Shelley and DH Lawrence, and still draws inspiration seekers.

Liguria has three UNESCO World Heritage Sites in its small territory, along with some national parks. Seaside towns are characterized by colorful pastel houses and fishing marinas, along with cute cafes and gorgeous scenery. Views all around Liguria are breathtaking.

The region offers genuine cuisine -the famous "pesto alla genovese" (basil pesto) is from here , along with noteworthy wines. Outdoors enthusiasts will be satisfied with the biking, hiking, paragliding, horse riding, and sailing that are easily accessible. And of course there are miles of beaches – both sand and pebbles – to enjoy. If dramatic settings, gorgeous seas, and charming villages are what you're looking for, then Liguria is the destination for you!
Been there? Done that? Share your experience and tips!
Haven't visited yet? Have questions about Liguria? Ask them here!