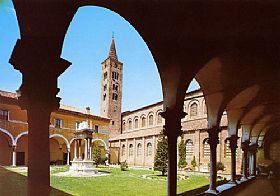 The northern region of Emilia Romagna has it all, from lofty mountains to classic farmlands swathed in mist. Here you'll find fertile plains, a sea coast, rolling hills, rows of vineyards, a thriving industrial base and lively cultural centers. It contrasts the rustic villages with cultured art cities; prestigious universities and country festivals; tractors and sports cars. In short, this region is a microcosm of Italy itself.
From the Adriatic coast, along the Po Valley, to the heights of the mountains, Emilia Romagna has something for everyone. There are ancient ruins, beautiful cities with charming piazzas, cinema, music, art, outdoors activities, museums and opulent churches to discover.
The ancient Via Emilia brought Roman prosperity to the region which was further enriched in the Middle Ages by the noble families and their courts who built palaces, public buildings and churches, and richly decorated them all, attracting noted artists, architects and literary figures here. There is no shortage of beautiful places and artwork to gaze upon.
Emilia Romagna basks on the Adriatic Coast with miles of wide sandy beaches to enjoy. The most famous resort is Rimini, the Daytona Beach of Italy, with nine miles of sand and surf, dance clubs, restaurants and a vibrant vibe. There are lots of other beach towns that are attractive and clean, great for families.
Emilia Romagna is Italy's gastronomic paradise, where its most famous products come from: Parmigiano-Reggiano cheese, prosciutto di Parma, mortadella, balsamic vinegar, tortellini, and Bolognese sauce, to name just a few. It is known as both the country's bread basket and its fruit bowl because of its agricultural and culinary contributions to the nation, and there are some excellent cooking schools located here. Lambrusco wine, soft and frothy, compliments the region's dishes (But forget about that sweet stuff that is heavily exported! The real Lambrusco is dry and tasty.) Other regional vintages include Barbera, Sangiovese, Malvasia and Trebbiano. Vast vineyards stretch out across plains and hills, making a picturesque drive as you meander around.
There are spas and miles of beaches for relaxing, and vast network of trails for outdoors enthusiasts. Excellent artisans produce ceramics, glass, metal workings, and lace.
Home to high-speed Ferrari, Lamborghini and Maserati, the region is also the birthplace of famous folks like Fellini, Armani, Pavarotti and sings Vasco Rossi and Zucchero. The world's oldest independent republic, San Marino, sweeps against its southern border.
This is a region to discover – and where you'll see all the best qualities of Italy in one geographic place!
Been there? Done that? Share your experience and tips!
Haven't visited yet? Have questions about Emilia Romagna? Ask them here!