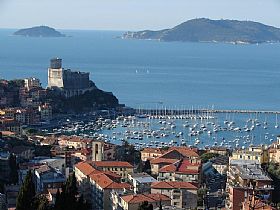 Lerici is a town that was destined to be a destination. How could a pastel city perched on the Gulf of Poets not attract literati and visitors? Called the Pearl of the Gulf, Lerici is indeed a gem.
Mentioned by Dante and frequented by poets like Shelley, Byron and D.H. Lawrence, it still lures literary types and artists seeking inspiration. It's very picturesque with its curvy coves, rocky cliffs, sparkling sea and cheerfully painted houses, all presided over by its dominant castle. Lerici holds all the same appeal as the more famous Cinque Terre but without the crowds - and with bigger beaches! There are abundant hiking trails, a pretty boat harbor, perfect panoramas, abundant sunshine and friendly folks.
A mile-long promenade fronts the water for leisurely walks along the sea. The narrow alleys hold lots of appeal, including a fascinating Jewish ghetto, compact piazzas, and architecturally interesting buildings. You'll find artisan shops, cute cafes and plenty of restaurants.
The well-preserved 12th century castle rises imposingly from the rocks at the water's edge, still standing guard over the town. It now houses the Paleontology Museum. The town has a long and storied history, starting with the Etruscans. It passed back and forth between the maritime powers of Pisa and Genova until falling under Genova's city-state definitely in 1256. It retains close cultural and architectural links to that powerful city. It was a popular port stop for wayfarers, pilgrims, and merchants between Rome, Genova and northern Europe.
Local sights include the Torre di San Rocco, a Roman era tower that was converted to a stately bell tower in the 1600s. The Castello di San Terenzo, in a fishing village nearby, started life as a watch tower but was enlarged to defend the waterfront village against pirates. It now hosts periodic art exhibitions. There are Renaissance era villas sprinkled around the surrounding area.
Lerici is a great location for a relaxing vacation, with nice beaches, a great climate and lots to keep you happy (and well-fed!) Ferries connect Lerici to the Cinque Terre towns, as well as to Portofino and Portovenere. Its location near Pisa, Carrara, Lucca and Viareggio makes it appealing, too.
Been there? Done that? Share your experience and tips!
Haven't visited yet? Have questions about Lerici? Ask them here!
Explore nearby towns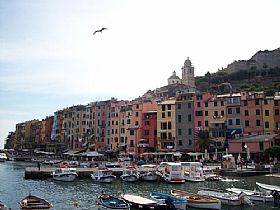 Colorful, breezy and pretty Portovenere sits on the edge of the Gulf of Poets.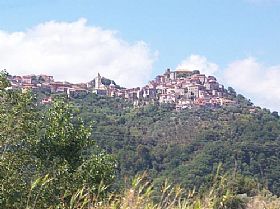 One of the hill towns that dot the green foothills of the Ligurian Apennines, Vezzano Ligure is a pretty place.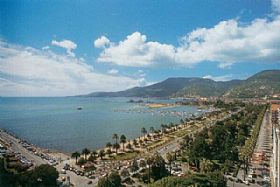 Big and bustling, La Spezia is a contrast to the quieter towns of the Ligurian coast.