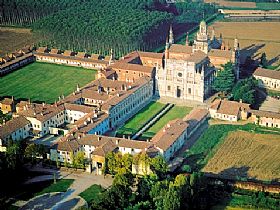 Lombardy is a land of contrasts, a rich region that sits at the northern border, where Italy runs into Switzerland dramatically at the Alps. It is home to industrial centers and art cities; it holds one-sixth of Italy's population yet also has charming smaller towns full of architectural gems along with rural areas; and it proudly parades its fashions in bustling Milan while boasting deep-woods parks for nature lovers and silence seekers.
The region is named 'Lombardia' for the Lombards, the barbarian tribes that invaded the area in the 6th century AD. Archeological finds dates the region's history back to the Etruscans and the Celts, then it underwent marked changes with the expansion of the Roman Empire in the 3rd century BC.
Lombardy is marked by high mountains, rolling hills and fertile fields as it mingles the mountainous Alps with the plains of the Po Valley and the lakeside landscapes of Italy's most famous inland bodies of water. The Lakes District encompasses the waters of Lake Como, Lake Maggiore and Lake Garda amidst the dramatic alpine backdrop of the mountains, making them popular resorts. In the hills you'll find the vineyards where one of Italy's premier sparkling wines is made, Franciacorta.
Milan, with its fashion, industry, urban appeal and famous cathedral, is the region's primary city. But Lombardy also has an abundance of castles, villas, palaces and art to show off that where bestowed by the noble families through the centuries. The Last Supper by Leonardo da Vinci; the Royal Villa of Monza; the villa-dotted city of Lecco; the Ducal Palace of Mantova and the perfectly planned town of Sabbioneta (a UNESCO site) are some of the must-sees in the region.
The region has a long musical tradition with its opera theaters and music conservatories, and Cremona was the birthplace of composer Giovanni Monteverdi and violin maestro Antonio Stradivari. Be sure to visit the Stradivarius Museum which pays homage to the man and the world-renowned violins that he created.
Whether you want a lazy day by the lakes, a shopping spree in the fashion world, or a hike in the mountains, you'll find it in Lombardy.
Been there? Done that? Share your experience and tips!
Haven't visited yet? Have questions about Lombardy? Ask them here!