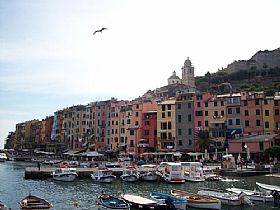 Colorful, breezy and pretty Portovenere sits on the edge of the Gulf of Poets. It is capped on the promontory by the Regional Nature Park of Porto Venere, a wild coastal nature reserve.
The town is jumbled up along the waterfront with tall and slender vividly painted rows of houses fronting the sea. It is dominated by its heavy stone castle above. The waterfront is protected inside the gulf. Across the little straight are the enchanting islands of Palmaria, Tino and Tinetto. Portovenere has a charming historic center with narrow lanes, stepped alleyways and archways. There are interesting shops, nice restaurants and trendy bars and cafes to enjoy.
Porto Venere has roots that predate the Romans, though the name was bestowed by them in homage to the goddess Venus. The church of San Pietro sits on the site that was occupied by the ancient temple. Walk up the cobblestone streets and steps to see church that was first built in the 6th century of black marble, then enlarged in the 13th century with black and white striped stone. It has a Gothic bell tower and Romanesque loggia. Further uphill are stunning views from the Castello Andria Doria, named for the noble, influential Genovese family. It was built in the 12th century surmounted with towers. It hosts summer art events.
Enter the medieval part of the town through the old city gate that is flanked by a tower. The main street, Via Capellini, meanders along lined with shops and eateries. The port is a haven for boaters and fishermen, who lend color and style to the harbor. There are some small beaches in town as well as on the islands. It is said that Lord Byron swam in a partially submerged cave and enjoyed the promontory for its solitude. The Gulf of Poets is named for him, and other literary greats who lived or vacationed here, including Shelley and DH Lawrence.
Portovenere is part of the UNESCO World Heritage Site that includes the Cinque Terre, to the north, recognized for its unique architecture and culture. You can enjoy the atmosphere, as well as boating, diving and trekking. There is an annual Palio del Golfo, a high-spirited rowing competition.
Portovenere is located in Liguria on the tip of the Gulf of Poets, across the water from Lerici. It is in easy reach of the famous Cinque Terre and other Ligurian coastal towns.
Been there? Done that? Share your experience and tips!
Haven't visited yet? Have questions about Portovenere? Ask them here!
Explore nearby towns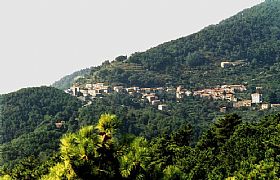 Campiglia Tramonti basks in the Ligurian sun on a ridge above the Gulf of La Spezia.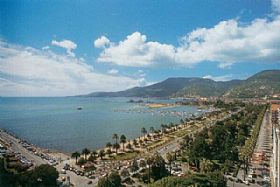 Big and bustling, La Spezia is a contrast to the quieter towns of the Ligurian coast.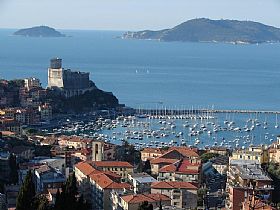 Lerici is a town that was destined to be a destination.