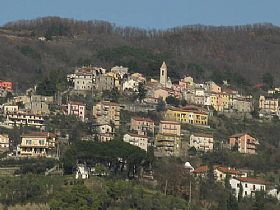 In the Ligurian hills lies the preserved medieval town of Bolano. Sitting high on a ridge, it marks the end of the ancient trail known as the Alta Via dei Monti Liguri, a network of old mule and foot paths that connected the towns of the region before modern roads. The trail network covers more than a thousand kilometers of paths, with a 500-kilometer long principal pathway that travels from Ventimiglia on the sea, winds along the spine of the hills and ends in the mountains here at Bolano. It passes villages that time and technology forgot, with gorgeous scenery all along the way.
In light of that, you probably already guessed that Bolano is a great place for outdoors enthusiasts! It is just 14 kilometers from Spezia and the splendid Gulf of Poets, yet sits in the tranquil and rugged mountains, giving a full view of Liguria as a land of contrasts. It is perched right at the border of Liguria and Tuscany and takes traditions from both regions.
The town has ancient beginnings, judging from funerary finds in the area, evidence of a prehistoric culture. It was settled by the Romans in the 2nd century BC then taken over by the Barbarians, the Longbards, and the Franks, successively. It went through a feudal period, bouncing between various lords of Tuscany and Liguria before falling under Napoleon's rule. It is thought to have been an important crossroads for the Romans, based on the name of one of the gates - Stazon (statio in Latin, meaning "station") and the unusual shape of the gate - the entry arch is bowed at the bottom to allow carriages to pass through.
The village has a natural appeal with its stone streets, old feel, and beautiful landscapes. It's triangular-shaped with three gates that once protected the town. The church of Santa Maria Assunta bears a Baroque re-do on an ancient chapel that built over the remains of a Roman-Gothic construction. There are impressive frescoes to see here. The nearby Castello Giustiniana was a Benedictine monastery built in 963 which included a chapel in the abbey, before being converted to a noble palace. It is in the village of Ceparana, a town that is administratively part of Bolano though it is more populous. It's also worth a visit.
Bolano is at the edge of the Regional Natural Park Montemarcello-Magra, next to the Apuan Alps, and within reach of the glittery Gulf of Poets and the gleaming marble town of Carrara.
Been there? Done that? Share your experience and tips!
Haven't visited yet? Have questions about Bolano? Ask them here!
Explore nearby towns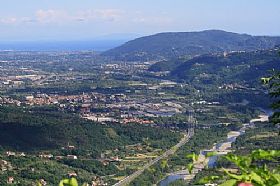 Ceparana-Carpena is a mostly modern town on the alluvial plain between the Vara and Magra Rivers.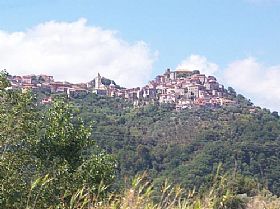 One of the hill towns that dot the green foothills of the Ligurian Apennines, Vezzano Ligure is a pretty place.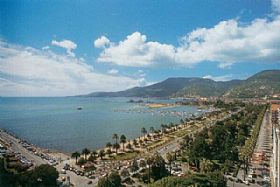 Big and bustling, La Spezia is a contrast to the quieter towns of the Ligurian coast.