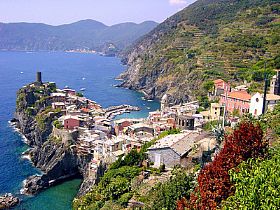 The Cinque Terre is a jagged stretch of coastline that gives the Amalfi Coast a run for its money in the dramatic scenery department! Located on the Ligurian crescent that is known as the Italian Riviera, the Cinque Terre is a network of five fishing villages - Monterosso, Vernazza, Corniglia, Manarola and Riomaggiore. They remained isolated until the 1960s, and are still a challenge to reach due to their cliff-side setting. The towns were once only reachable by sea -and you'll see why when you venture into the terraced steep hills of this region!
The Cinque Terre is so unique that the entire zone has been named a UNESCO World Heritage Site as well as a national park. It is also a protected marine area. The towns are mostly wedged between the cliffs and the sea, with the exception of Corniglia that is perched on top of the hill, high above the Mediterranean (where it enjoys fabulous views). Each town is unique in character, but they all have a pastel jumble of houses packed onto the cliffs, pretty pedestrian lanes, and beautiful settings overlooking the glittery sea. Artisan shops, eateries and cute cafes are tucked in among the streets and piazzas. In short, the Cinque Terre is unique, impressive and breathtaking!
The Cinque Terre is best reached by boat or train; while roads make them more accessible than in the past, it's still a bit difficult with a complicated series of serpentine roads where it's easy to get lost - and you'll find precious little parking when you do arrive. If you drive, park in Monterosso, Vernazza or Riomaggiore and use the little train or ferry boats to transport. Ferries run from Genova, La Spezia, Lerici and Portovenere, too. There is also a network of walking paths that connect all five towns, making it a popular spot for walkers and hikers. The primary path, the Sentiero Azzurro (The Blue Trail) is also known as the Via dell'Amore (Street of Love); it's the lower route that skirts the sea. It's possible to walk between all five villages in about six hours. The other, the Sentiero Crinale (Ridgetop Trail) is higher and more inland, following a old mule path that is crossed by other trails. It runs between Levanto and Portovenere, and is good for avid hikers. There is no driving allowed in any of the villages.
The hillsides are terraced and cultivated with olive trees, vineyards, and orchards. Big-leaf basil is abundant, from which the area's specialty, Pesto sauce alla Genovese, is made. Seafood is abundant, of course; there is still an active fishing trade here, and the region's foccaccia bread is well-noted.
The Cinque Terre occupies 18 kilometers of rocky coast with bays and beaches, backed by mountains. Dry stone walls, loads of flowers, and beautiful nature landscapes welcome you; the hospitality, great food, charming atmosphere and clean sea will make you want to stay!
Been there? Done that? Share your experience and tips!
Haven't visited yet? Have questions about Cinque Terre? Ask them here!