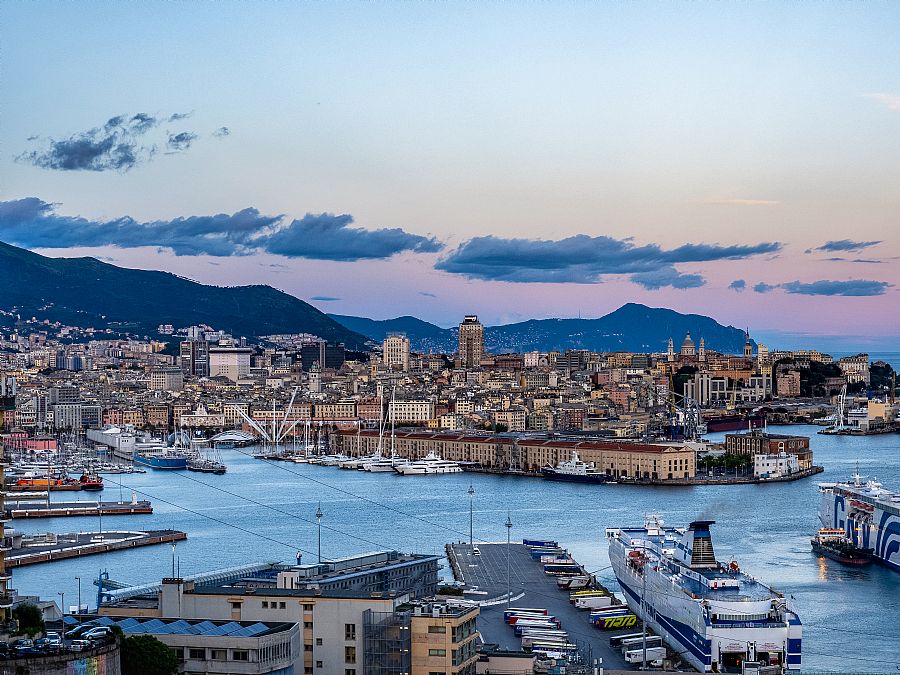 A once-mighty maritime republic, Genoa is Liguria's primary port city and a place that will surprise you with its suberb monuments. In fact, Genova (the Italian name) is called "La Superba" for its glorious history and cultural offerings. Italy's sixth-largest city, part of its historic center has been named a UNESCO World Heritage Site.
Genoa gave birth to the House of Grimaldi (the famous rulers of Monaco), and of course Christopher Columbus was a famous Genovese. Other hometown heroes include composer Nicolo' Paganini and revolutionary/politician Giuseppe Mazzini. The city was a financial center as early as the 1400s, and since money flowed around the Republic you'll see many palazzi that were built by those wealthy patricians.
Today the city blends its high- class past and splendor with thriving industry and a working port. Via Garibaldi is Genoa's swanky shopping street, awash in galleries and boutiques. The Porto Antico is a popular spot, a sort of "city within a city" where you'll find a mix of attractions, shops, restaurants, bars and events. It faces the water (of course!) This is where you'll find the famed Acquarium (a must-see!), along with some great museums, and Il Bigo, the symbol of the Porto Antico -a lantern-like lift that hoists you high over the port to get a spectacular view! You can catch a boat to take you on an excursion along the Ligurian coast, or find a fine meal while you're here. There is also a swimming pool and skating rink.
Because Genoa is built in tiers, there are lots of staircases that act as streets. Or, a fun way to get between layers is the funicular. There are three of these inclined "elevators" that scale the various parts of the hill, so ride one up to the top for a fabulous view (as well as a fun rail ride!)
Some of the landmarks to not miss while in Genoa:
The Lighthouse- called la lanterna, it's a 384-feet tall beacon that is visible for 20 miles.
Piazza de Ferrari and Galleria Mazzini. In the heart of the city is this beautiful piazza centered on a circular high-spurting fountain and outlined with lavish buildings. One is the 18th century Galleria Mazzini, a glass-topped arcade of stylish shops and dignified cafes.
Palazzo Reale and Palazzi dei Rolli - UNESCO site. The royal palace and the entire district are included in the UNESCO World Heritage Site, with the streets and palaces here being Europe's first planned urban development project. There are 42 palaces in all! The Palazzo Reale was the 16th century regal residence of princes and nobles and is now home to a fabulous art museum, with masterpieces by Tintoretto, Strozzi, Parodi and more. The gardens are glorious.
Palazzo Spinola di Pellicceria, also known as Palazzo Francesco Grimaldi, is one of the most adorned palaces in the city and houses the Museo Nazionale that allow you to be awed by the grand staircase, the salons, sculptures, frescoes and furnishings of a noble palazzo.
Palazzo Ducale (Doge's Palace) is a stunning structure built for the ruling dukes. Today it highlights high-caliber special exhibits as well as special concerts and events.
Been there? Done that? Share your experience and tips!
Haven't visited yet? Have questions about Genoa? Ask them here!