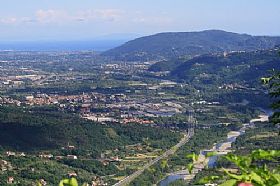 Ceparana-Carpena is a mostly modern town on the alluvial plain between the Vara and Magra Rivers. It literally straddles the border of Tuscany, so a short walk outside town transports you from Liguria into neighboring Toscana. It is situated between the famous cultivated terraces of Liguria and gentler hills with olive groves and chestnut woods.
The town had Roman origins, and a protective castle was built in the 10th century on the site of an ancient monastery. The castle became Palazzo Giustiniani when it passed to that noble family in 1717 and they turned it into a princely residence. It is flanked with a lovely bell tower with four arched windows. Ceparana has spent several centuries under the jurisdiction of Bolano, and the entire territory was tossed around under several governments, including the Republic of Liguria, France, the Lunigiana and Kingdom of Sardinia.
Ceparana-Carpena is best known as the finishing point of the famous 440-kilometer long trail known as the Alta Via dei Monti Liguri, which was once an important trade and communications route that crosses the entirety of Liguria. The town has plenty of services, shops, and eateries. It is still under the jurisdiction of Bolano, and is close to La Spezia and the Bay of Poets, where Lerici is also a noteworthy town to visit. Carrara, the renowned center of marble quarrying in Tuscany, is in reach, as well.
Been there? Done that? Share your experience and tips!
Haven't visited yet? Have questions about Ceparana-Carpena? Ask them here!
Explore nearby towns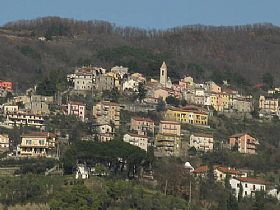 In the Ligurian hills lies the preserved medieval town of Bolano.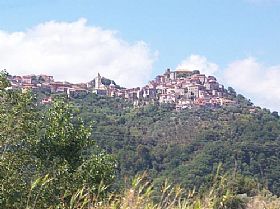 One of the hill towns that dot the green foothills of the Ligurian Apennines, Vezzano Ligure is a pretty place.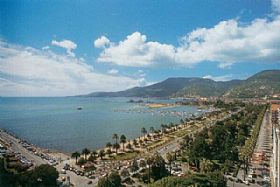 Big and bustling, La Spezia is a contrast to the quieter towns of the Ligurian coast.