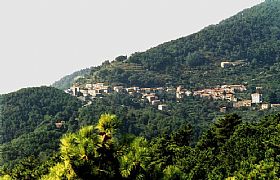 Campiglia Tramonti basks in the Ligurian sun on a ridge above the Gulf of La Spezia. The town is tucked into the folds of the hills with steep terraces marking the face of the cliff. The sparkling sea is below while higher mountains rise up behind.
Campiglia is half-way between Portovenere and the noted Cinque Terre. It shares much the same scenery as its more famous neighbor to the north but without the crowds. The town has a handful of shops, restaurants and coffee bars to enjoy among its cobbled streets and stone houses. Many of the 'streets' are actually staircases and pedestrian lanes among the tight cluster of buildings.
The area is a hiker's paradise - trails scramble all over the cliffs and hills, leading to the neighboring villages, into the mountains, and down to the sea. Saffron is an important commodity that is found growing wild as well as cultivated. The area's wine is cultivated on the insanely steep hillsides where it picks up minerals and sea air to produce a noteworthy vintage known as Sciachetra'.
The town has a sculptural school that teaches young people how to work and carve the local stone. You might see them around the area as they conduct open-air workshops. Campiglia has an unusual historic feature - an old stone windmill. The stout round structure resembles one of the many Saracen watch towers that dot the coastline, but instead of being a defensive structure, it was built to support turning blades to extract ground water. It dates to the 1600s; it has been restored and has an exhibit inside. Walk up the stone exterior staircase to enjoy the views.
Campiglia is located between Monterosso and Porto Venere. You can enjoy the Gulf of Poets to the south or the pastel villages of the Cinque Terre to the north. Down along the sea are coves for swimming with views of the rocky "islands" that rise up out of the water. Campiglia Tramonti is administratively a "frazione" of the city of La Spezia.
Been there? Done that? Share your experience and tips!
Haven't visited yet? Have questions about Campiglia Tramonti? Ask them here!
Explore nearby towns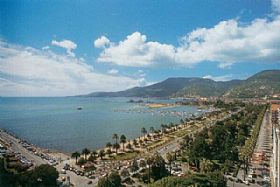 Big and bustling, La Spezia is a contrast to the quieter towns of the Ligurian coast.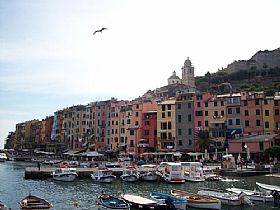 Colorful, breezy and pretty Portovenere sits on the edge of the Gulf of Poets.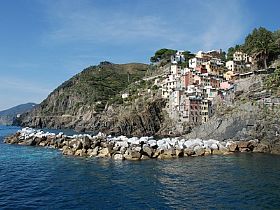 The southern-most town on the Cinque Terre, Riomaggiore is wedged in a cleft between two hills.