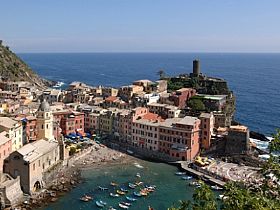 Arguably the prettiest of the Cinque Terre towns, vivacious Vernazza is sure to please. Jumbled up on the cliffs and rocks clustered around a small, protected harbor, it somehow manages to retain its identity as a fishing village while exuding an air of sophistication at the same time. Shops, restaurants and cafes are tucked into the skinny lanes and piazzas, while colorful boats crowd the streets in bad weather for protection.
Vernazza has an casually elegant feel, with arcades, loggias, porticoes and archways decorating it. The buildings are lined up in classic Ligurian "tower houses" - tall and slender, painted in an array of pretty pastels. Plants and flowers overflow from pots and window boxes along the" carruggi," the characteristic stepped streets of the town. No cars are allowed in the town.
Vernazza's history dates to about 1000 AD but it started to thrive when it came under the dominion of the Republic of Genova in 1276. On the seafront summit of town is the Belforte Castle, also known as Castello Doria, built in the 1500s to protect against pirate attacks. The stronghold has a central cylindrical tower rising from it; it's well-preserved ramparts offer breathtaking views. The Church of Santa Margherita di Antiocchia is a charming chapel at the water's edge the town's centerpiece. Built in 1318 in the unique Genovese style of Romanesque, its octagonal tower rises proudly as a landmark while its foundation is staked right down into the sea. The feast day for the patron saint is July 20, and the town throws a party worthy of it, with food, festivities and fun. During the religious celebrations at Easter, crosses that were carried by Vernazza ships during the Crusades are paraded through town.
Vernazza is on the Sentiero Azzurro, or Blue Trail, the walking path that links all of the five towns of the Cinque Terre. Other trails snake off into the hills, among the intricate network of carved-out terraces that burst with vines, olives and produce. The specialties of Vernazza include anchovies in salt or lemon juice, pansotti (a ricotta-spinach stuffed ravioli), and pesto sauce made with sun-fresh basil. They make a delicious lasagne using pesto instead of tomato sauce, and of course seafood is prevalent and fresh.
The overall atmsophere of Vernazza is laid-back and relaxed with plenty of charm to keep you enchanted.
Been there? Done that? Share your experience and tips!
Haven't visited yet? Have questions about Vernazza? Ask them here!
Explore nearby towns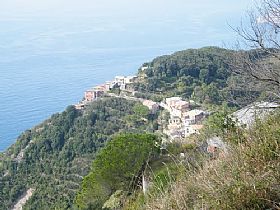 Fornacchi is a hamlet that is part of Vernazza in the Cinque Terre.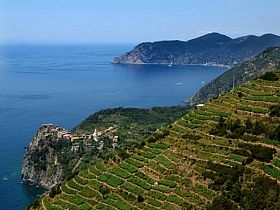 Corniglia is the middle village in the chain of five Cinque Terre towns.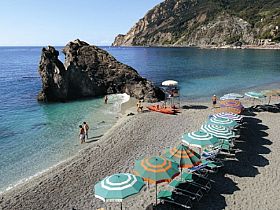 Monterosso, also known as Monterosso al Mare, is the town that anchors the Cinque Terre on the northern end.