Rome Sightseeing: a day trip to Rome
Erica Firpo, author of "Little Black Book Rome"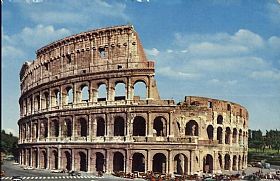 So you've just arrived in Rome for the day as one of many stops on your cruise around the Mediterranean or before you start a two-week wine tasting vacation in Tuscany.
What to do?
As a private tour guide, I have often been faced with this question. "Where do we go? What do we see? We don't have much time but want to see everything. Is that all there is?" To really visit and know Rome takes more than a few hours, days, months or even years. I stand to sound cliché but Rome truly wasn't built in one day. In fact, it's several eras of history sandwiched together, and every day I find something I haven't seen before or knew existed. It's impossible to see even a fraction. But what is feasible is to immerse yourself in Roman culture, classical to modern, so that you come out soaked with history. And hopefully, some of it will be retained…
Arrival It's important to know what time you arrive in Rome because your visit is always dictated by time. Churches (except for Saint Peter's) are always open from 7.30 am to 12.30 pm and then from 3.30/4/4.30 pm until 7.30 pm. The Vatican Museums' doors open at 8.20 am and close at 1.20 pm (in the fall and winter) and 3.20 pm (in the spring and fall). The museums themselves stay open approximately 1 hour after doors closed. In addition, the museums' doors close at 12.20 pm on Saturdays. The Museums are only opened one Sunday a month following Saturday hours. It can get confusing but every hotel and guidebook provides the schedule.
How To Get Around Do you want to walk? Are your shoes sensible or fashionable? Should you take the bus or a taxi? Walking is the best answer as everything is truly within walking distance, but sometimes my feet hurt, the weather is bad and I am too lazy so I'll take a taxi. They are affordable and tipping is at a minimum. Example: A ride of €4.50 can be rounded up to €5.
What To Do The obvious choices are Ancient Rome (The Forum and Colosseum), The Vatican (St. Peter's Cathedral and The Vatican Museums), and the beautiful piazzas made famous in Roman Holiday and The Lizzie Maguire Movie.
But you have less than 48 hours to do all of this. And in some cases, less than 24.
If you have two days in Rome, take the first morning to visit the Colosseum, Roman Forum and the Palatine Hill. The Colosseum is a beautiful amphitheatre from 80AD where gladiators fought man and beast for four centuries. Your ticket for the Colosseum gives you entrance into the Palatine Hill, a palatial expanse where the first inhabitants of Rome lived, along with several emperors, philosophers and noble families until the 1800s. From the Flavian palace, 1st century AD, is a view of the Circus Maximus, 1st century BC. Walk through the remains of the palace towards the Farnese summer home (17th century), which rests atop the remnants of Tiberius' palace. The Farnese home has beautiful renaissance gardens which remain intact and are excellent spots for a picnic lunch, quiet and relaxing. Finish this section of ancient Rome by walking around the forum to find Julius Caesar's tomb. If you follow the Via Sacra (one of the oldest roads in Rome) out of the Forum, you will walk up a staircase and find yourself behind the Campidoglio (Capitoline Hill). Take a photo of the Forum from here, the view is beautiful.
The Campidoglio consists of three former senatorial buildings from the Renaissance and designed by Michaelangelo. Now the buildings house two museums and the mayor's office, and from the piazza there is a beautiful view of Rome as a modern city. It's at this point that I need a gelato (Italian ice cream), so I head to the Pantheon, my favorite building in all of Rome. The Pantheon is a classic Roman temple from 27 BC, with a round dome. The piazza itself is relaxing with many cafés and restaurants facing the Pantheon, great place for respite. There is also a McDonald's in this piazza, which is very attractive to those craving a cheeseburger.
Time now to see a glimpse of the Baroque, disguising some ancient Roman architecture as well. Walk towards the river (Tiber, Tevere) and next to the Pantheon you will find Piazza Navona, an oblong rectangle with three fountains. The center fountain is the infamous Four Rivers by Gian Lorenzo Bernini, where each four rivers (Nile, Ganges, Danube and Rio del Platas) make distinct gestures to the church in front of them. The rectangle shape of Piazza Navona has its own history. It takes its shape from the Stadium of Domitian, 86 AD—a racetrack whose remains are under the piazza.
By this time, it should be mid-afternoon, the perfect time to people watch (and shop) in Piazza di Spagna, a piazza built in the late Renaissance, famous for its beautiful staircase which has created the misnomer The Spanish Steps. Bernini's father designed my favorite fountain in the center, which looks like a sinking ship, complete with water trickling out the bow. This is a shopper's paradise with Prada, Gucci, Louis Vuitton, Cartier and Bulgari on via Condotti, the main street, but walk the side streets and you will find Chanel, Gucci (another!), YSL, Valentino, Ungaro et al. There is some shopping for the younger generation with stores like Patrizia Pepe and Gente on Via Frattina and Fornarina (also on via Condotti).
Exhausted and ready for a nice glass of wine? There are several wine bars on the side streets, like Cesaretto and Antica Enoteca, via Mario di Fiore and via della Croce. But don't go straight back to the hotel, walk over to the Trevi Fountain, exiting right on Piazza di Spagna (if you are facing the steps) by via Due Macelli. Cross via Tritone and follow the sounds of water where you will find the Trevi Fountain by Nicola Salvi, 1735 and perhaps even more well known for Anita Ekberg's bathing scene in La Dolce Vita. Toss a corner over your shoulder and make it a wish, guaranteeing your return to Rome.
Day Two: enjoy a cappuccino at Caffe San'Eustachio, in Piazza San'Eustachio, behind the Pantheon and treat yourself to an espresso or cappuccino. Some consider Caffe San'Eustachio the best café and coffee in all of Rome. It's pre-sugared so you do not need to add any more. This will give you enough energy to visit all the rooms at the Vatican Museums and the Sistine Chapel. The museums were built and furnished over six hundred years so there is a lot of artwork to see. Over 7 ½ miles of hallways are filled with artwork collected from around the world. Sometimes it's easiest to choose what you like—painting versus sculpture, Renaissance versus Egyptian, etc. What you can't bypass is the Sistine Chapel, built in 1474 and painting almost entirely by Michaelangelo in the first half of the sixteenth century. Exit the Chapel by the rear right door, which will lead you down a staircase towards the Cathedral.
My advice is to arrive at the Museums at 2 1/2 hours before the entrance closes (11am in winter, noon or so in summer) that you can (almost) avoid the notorious lines which often circumscribe the Vatican walls—in other words, hours of waiting.
If any day of your visit falls on a Wednesday, go to Saint Peter's Square by 9.45 am and watch Pope John Paul II give his weekly service. And then visit the city in the reverse of my suggestions.
Saint Peter's Cathedral is the largest Catholic church in the world. Well over one hundred years of design and building went into the structure, along with thousands of works of art. If you stay until 5 pm, you will be in time to listen to a vespers mass.
You've walked and seen a lot. The afternoon is yours. If you aren't tired but want to relax, visit the Ghetto and Campo de' Fiori. The Ghetto is the historic Jewish neighborhood, filled with beautiful medieval and renaissance buildings and located next to the Teatro di Marcello, 1st century BC—the theatre that was the model for the Colosseum. Campo de' Fiori is a centuries old market place where fruit, meat, fish, vegetables, shoes, clothing and of course flowers are sold from the early morning until 1 pm. After 4.30 pm, Campo is one of the main meeting points for the afternoon drink (aperitif) as cafés perimeter the square. Ideal for unwinding and people watching.
If only one day in Rome, have coffee at Caffe San'Eustachio in the piazza behind the Pantheon and the visit the Pantheon and Piazza Navona. By 11 am, arrive at the Vatican Museums entrance and visit the museums and Sistine Chapel (2 to 3 hours), exiting the far right door towards Saint Peter's Cathedral. Walk around the Cathedral (1 hour) and head out into the Piazza to catch a cab (you don't have much time, remember!) to the Colosseum, Palatine Hill and Forum. From there, you can walk out of the Campidoglio towards the Trevi Fountain. It should be about 4 pm, just in time to make a wish, walk to Piazza di Spagna, do a little shopping and catch a cab back to the train station, hotel or meeting point.
Eating Rome has hundreds, nay, thousands of excellent restaurants, delicious cafés, pizzerias, and ice cream shops. It's more important to know what you want to eat and what kind of atmosphere before you go. Outdoors, indoors, traditional, nouvelle cuisine, chic, simple—Rome has it all. The more "traditional" Roman restaurants are in the Trastevere neighborhood, where as the center has some of the best pizza places and some very good Italian restaurants. Little Black Book Rome is an excellent and in depth guidebook to the best restaurants, cafés, and nightspots in Rome.
Advice Avoid carrying anything in your pockets. Wallets, etc, should be well hidden from pickpockets or firmly secured to your belt. Purses should be carried across the chest, with your arm protecting it.
Been there? Done that? Share your experience and tips!
Haven't visited yet? Have questions about Rome Sightseeing: a day trip to Rome? Ask them here!