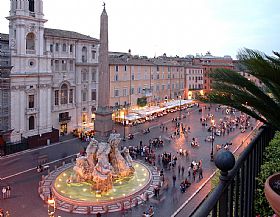 The Piazza Navona is one of the world's most recognized squares. In the ancient heart of Rome, your first sight of it comes as a surprise. The shaded narrow alleys open suddenly to the wide, long expanse filled with sunlight and colorful cafes. It's a popular spot for a passeggiata (stroll) and a central meeting point for a drink and open-air entertainment.
Piazza Navona teems with life at all hours of the day and night. Here you'll find mothers with baby buggies, groups of tourists snapping photos, struggling artists painting the scenes, street performers, and trinket vendors, all amidst the greetings of cafe owners beckoning you in, work-a-day Romans passing through for a coffee, and local teens out for some fun. In short, it's a gathering spot for everyone who comes to Rome!
The splendid square started life as a stadium, built by Emperor Diocletian in 96 AD. It was larger than the Colosseum and was used for festivals and sporting events. At times, it was even flooded and used to stage mock naval battles. It's fortunes changed in the Renaissance era when Pope Innocent X decided to enhance his family's visibility with grand renovations to their palazzo, along with a new paving of the piazza, a new church, and some fancy fountains thrown in for good measure, all to "one-up" the wealthy, noble Barberini family who had just flaunted their status on the other end of town with the Piazza Barberini, Palazzo Barberini and a few fountains of their own.
The elegant church of Sant'Agnese in Agone was built by Borromini on the spot where the modest saint was stripped naked but saved from shame by a miraculous growth of hair. In front of it is the celebrated Four Rivers Fountain by Bernini, paying tribute to the Niles, Ganges, Danube and Plata rivers, while Bernini's other fanciful water spout at the opposite side of the piazza is the Moor, a muscular a baroque basin with tritons surrounding the dolphin-toting Moor. The fountain of Neptune with sea nymphs was added by Giocomo della Porta.
No trip to Rome is complete without a visit to the Piazza Navona, where you can be a tourist and a Roman at the same time!
Been there? Done that? Share your experience and tips!
Haven't visited yet? Have questions about Piazza Navona? Ask them here!
Address in Rome:
Piazza Navona.