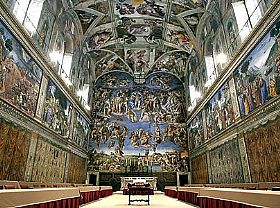 The glorious and celebrated Sistine Chapel is a crowning jewel of Renaissance painting and a sight that leaves millions speechless every year. The private chapel of the Pope, the Sistine Chapel, or Cappella Sistina in Italian, was consecrated in 1483 and named for Pope Sixtus IV. But the pope who turned it into the magnificent masterpiece you see today was Pope Julius II, who was a great patron of the arts and who took on great building projects to restore splendor to Rome and leave his mark on history. Julius didn't just "hire" Michelangelo; he insisted that the artist take on the fresco commission despite his vehement protests. Michelangelo maintained that he was a sculptor and not a painter and didn't want anything to do with the project.
In the end, the pope got his way and Michelangelo had to learn the technique creating frescoes and the perspective of painting, both very different from his usual medium of stone. He designed and constructed special scaffolding for working on the 60-feet high (18.2 meters) ceiling. It's a myth that he painting lying on his back, which may have been a better posture; he leaned over backwards and suffered severe back and neck pain as a result, which he complained bitterly about in letters to friends.
Over a four year period, he covered the ceiling in vibrant scenes from both the Old and New Testaments. The ceiling measures 131 feet long (40 meters) by 43 feet wide (13 meters), which means Michelangelo painted 5000 square feet (465 square meters) of frescoes! There are famous scenes of Genesis, including Creation, The Fall, and The Deluge, immortalized through these images. There are portraits of prophets and scenes of sibyls. All told, Michelangelo put more than 300 figures on the ceiling, along with intricately painted 2-dimensional architectural moldings and bisections to set each scene apart. Michelangelo made use of the Vatican theologians to get all his details right.
He was called back in 15363 to paint the altar wall. His enormous depiction of the Last Judgement is full of motion and bodies, both rising to heaven and descending to inferno, taking references from Dante's book. Other frescoes on the walls of the Sistine Chapel are by Botticelli, Signorelli, Ghirlandaio and Perugino. But the name that is synonymous with the church is Michelangelo. While he had completed the majority of the actual painting himself, he did have a team of helpers to fill in background spaces, mix paints, and scramble up and down the scaffolding to give him pigments and supplies.
The chapel is a masterpiece; a striking, jaw-dropping sight of vibrant color. The detailed depictions of sculpted anatomy and architectural details could only have been completed by a studied sculptor, and the incredible scenes continue to amaze and inspire pilgrims and tourists.
The Sistine Chapel is accessed through the Vatican Museums.
Been there? Done that? Share your experience and tips!
Haven't visited yet? Have questions about Sistine Chapel? Ask them here!
Address in Rome:
Viale Vaticano.