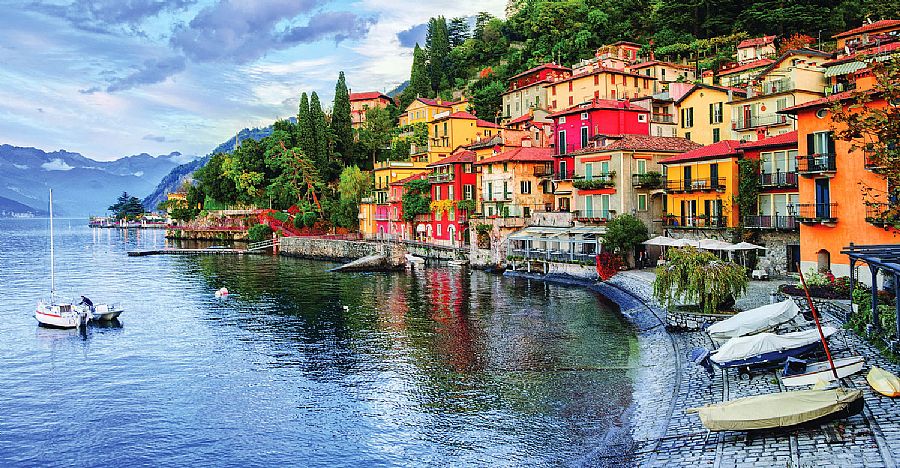 Lake Como is undeniably a breathtaking resort, popular with the literary and glitterati for decades. But it's more than just glitz and glamour; it is a place to relax and bask in the vistas and the warmth of the people who know how to welcome visitors.
Also known as Lake Lario, Como is the deepest lake in Europe (410 meters, or 1345 feet deep), as well as the third biggest lake in Italy. Thanks to its mild microclimate, it enjoys the lushness of abundant Mediterranean flora: cypress trees, laurel trees, camellias, azaleas, rhododendrons, magnolias, and palm trees. There are many gorgeous gardens to show off the profusion of blooms and plants that grow here, many attached to opulent villas and well worth visiting.
Inhabited since prehistoric time, this "piece of heaven" is an oasis of peace, where you can relax, enjoy hikes in the hills, water sports, and sample the excellent local cuisine while you're staring at the majestic mountains reflected onto the lake. There are beaches for a swim, shore-side promenades for strolling, and alluring lanes in pastel towns with cafes and pretty piazzas.
This wonderful landscapes and the surrounding valleys have inspired many artists and scientists, such as Alessandro Manzoni, Virgilio, Alessandro Volta, along with a host of foreign writers and artists, as well. Lately it has garnered lots of attention thanks to mega-star George Clooney, who has a villa on the lake (it was featured in his movie, Ocean's Twelve.)
The Romans were the first to realize the importance of the waterway of Lake Como that they navigated to transport legionaries and goods towards the alpine passes in the direction of central Europe. It was only in 1826, however, the year of launching the "Lario" steamboat, that the first regular navigation service was started up for the public. Today, ferry boats seating 200 and other large motor launches ply the waters on their frequent crossings, with stops at many of Lake Como's towns. Cruising on the lake is an unforgettable experience that lets you glimpse the sumptuous villas, some half-hidden behind trees or bays, other towering above like pearls in a necklace strung along the lake. There are the churches, abbeys, picturesque villages, castles and towers that appear as if by magic amidst the dark green of the oak forests sloping down in all their magnificence from the steep hills to the edge of the deep blue waters.
The Como area has a rich artistic heritage, with cultural events and museums to satisfy everyone. There are historic fortifications for history buffs, and plenty of sports for the active travellers. Lake Como is an ideal spot, with beauty and style. It is luxurious and low-key at the same time, and close to northern Italy's cities, like Milano and Torino.
Been there? Done that? Share your experience and tips!
Haven't visited yet? Have questions about Lake Como? Ask them here!