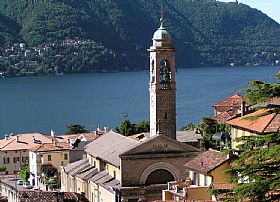 Moltrasio sits lazily on the west bank of Lake Como's western branch, upstream from the city of Como. Known for its historic villas and manicured gardens, many rich and famous folks have been drawn to this peaceful place for centuries. Its mild and sunny climate and beautiful landscape have helped make Moltrasio one of the pearls of lake. Musicians Bellini and Ranzato frequented the town.
It has enjoyed periods of wealth thanks to its natural resources. The dense vegetation of the hills behind Moltrasio provided timber and game, while the lake's abundant fish added to its products that were exported. Agriculture in the rich glacial soil, and waterfalls in the woods lent their strength to power mills. The limestone of the mountains were quarried for stone, especially important during the Middle Ages and Renaissance when Moltrasina Stone was sought out by sculptors and monument builders. This stone was also cut into shingles used on the area's houses for roofing material.
Villas and gardens sprang up and Montrasio became a retreat destination, a place to enjoy the peacefulness of the placid lake setting. The pastel houses and nice shoreline are still alluring.
While there are several waterfalls in the hills, you don't want to miss the Cascata del Torrent Pizzallo, a waterfall right in town that tumbles down the rock and flows through the village. There are little bridges to cross it during periods of rain or spring run-off from the mountains, the water flows higher and splashes against the stone houses along its course.
Been there? Done that? Share your experience and tips!
Haven't visited yet? Have questions about Moltrasio? Ask them here!
Explore nearby towns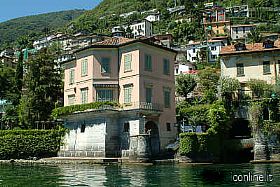 Carate Urio is on the western shore of Lake Come, about ten kilometers from the town of Como.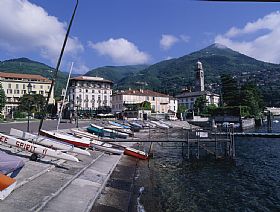 On the slopes of Monte Bisbino, the small garden city of Cernobbio is encircled by fine stately villas scattered around the surrounding green hillside.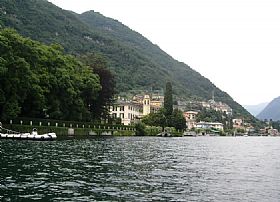 Laglio is a sleepy village on the western shore of Lake Como, a leafy place of pines and palms and climbing vines.