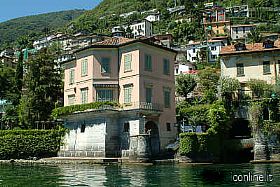 Carate Urio is on the western shore of Lake Come, about ten kilometers from the town of Como. Originally founded as two inhabited areas -Urio and Carate Lario- the shared a common history and ties, so were administratively unified in 1927.
Urio staggers up the steep hillside; overlooking the lake, it has a special charm. Stepped lanes, archways, stone buildings and vaults give it an Old World appeal. Carate spreads out along the lake itself and is also charming and well-tended. The high bell tower of the church of San Quirico and Giulitta is Romanesque structure that defines the skyline of Carate Urio. The accompanying church was rebuilt in later years. Climb the staircase uphill to the historic country church of Santa Marta, which was consecrated in 1095. The staircase is punctuated by little chapels for the stations of the cross, called the Via Crucis.
Urio and Carate Lario have common and ancient origins, as evidenced by the discovery of some Gallic tombs (found in 1877), and Roman inscriptions discovered in different parts of the the village in the last century. A fragment of carved stone (now housed into the civic museum of Como) also documents the passage of the Etruscans.
Like other lakeside towns, the appeal here vascillates between water activities and mountain sports. There are an abundance of hiking trails, so you can trek to Monti di Carate and Monti di Urio, along with other peaks that tower above the towns. There are nineteenth-century villas in the area, such as Villa ai Cedri and Villa Baragiola. You can take ferries to other lake towns, such as Bellagio or Como, while nearby Laglio and Montasio offer other attractions, too.
Been there? Done that? Share your experience and tips!
Haven't visited yet? Have questions about Carate Urio? Ask them here!
Explore nearby towns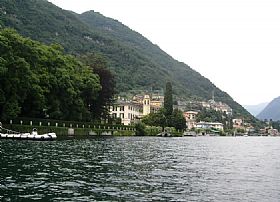 Laglio is a sleepy village on the western shore of Lake Como, a leafy place of pines and palms and climbing vines.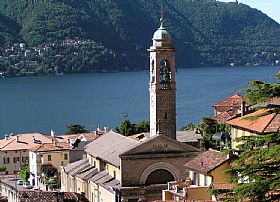 Moltrasio sits lazily on the west bank of Lake Como's western branch, upstream from the city of Como.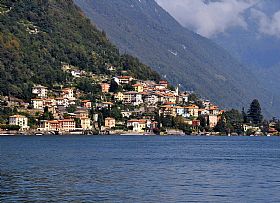 Torriggia is a lovely lakeside town near Laglio with loads of charm.