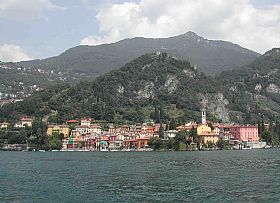 Perledo is a delightful village that sits prettily on the hill at the edge of Lake Como. Legend says the name derives from "Per l'Eden" a name which certainly describes the storybook setting of the town. The characteristic cluster of stone buildings sits just above the lake with green hills and cypress trees surrounding it. Perledo perfectly preserves its Old World aspect despite the passing of the centuries, making an interesting place to visit.
Ancient peoples from Liguria originally settled this area in the second century BC but the Romans made it one of their hinterland playgrounds. It was the Middle Ages that saw the most development though, and the streets and buildings of today fully reflect that period. Just a short and lovely walk from Perledo is the sister hamlet of Vezio where you'll find the mighty castle, the Castello di Vezio, a walled-in heavy stone structure that served as the area's defensive fortress. It sits on the hill with its walls and tower intact and offers breathtaking views of the surrounding mountains and Lake Como.
The church of San Martino is the centerpiece of Perledo, a unique oval interior with a Romanesque bell tower that was built in the 11th century. The Baroque facade was added in the 1600s. The piazza in front of the church has nice panoramas. The church of Sant'Antonio has frescoes from the 1400s; it's said that this church was built by Queen Teodolina, the Longobard royal who reportedly loved Perledo. The chapel of Santa Maria Gittana was built in the 1300s and is decorated with frescoes, as well as decorative arches and a revered Gothic wood statue.
Despite its miniscule size, Perledo has a lot to offer, with some shops, coffee bars, and restaurants where you can taste the regional specialties. There are abundant hiking trails up into the hills and along the lakeshore to enjoy the beautiful and natural setting. Perledo has a mild climate. It is only 20 kilometers from Lecco and just 60 kilometers from Milan (but a world away!) Perledo is close to Varenna, where you can get the ferries that take you to beautiful Bellagio and Menaggio.
Been there? Done that? Share your experience and tips!
Haven't visited yet? Have questions about Perledo? Ask them here!
Explore nearby towns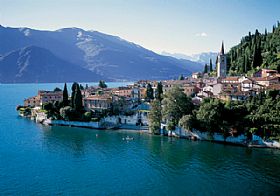 Varenna is a small village lying on a promontory along the eastern bank of Lake Como.