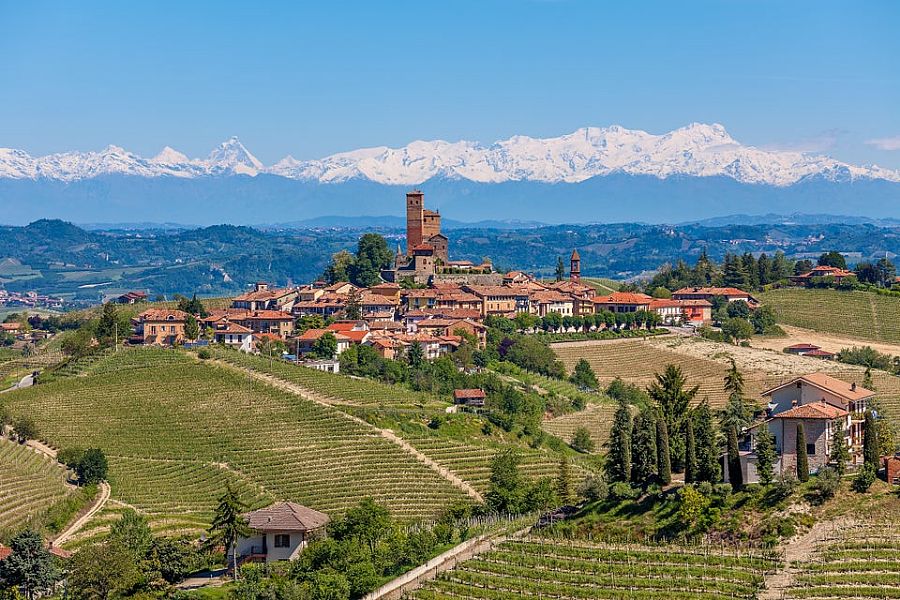 Piemonte is a northern land of rugged peaks, gentle hills and fertile plains with storied cities and storybook castles backed by the snow-capped Alps in its midst. Descending from the Alps, its culture and name comes from the jagged mountains -"piede" meaning foot and "monte" meaning mountain. Classically rural despite its famous city of Torino, it enjoys a traditional lifestyle with gorgeous landscapes, world-class wineries, and a sane pace of life.
Bordering with Lombardia and Valle d'Aosta, the region of Piedmont had close ties to France and the House of Savoy. In fact, the unification of Italy was launched from here and Italy's king was Piemontese. Before that, when it was part of the Kingdom of Sardinia, the city of Torino was a major European capital and became a palace-studded center of art and culture. But for the most part, Piedmont is rural as you'll see in the southern wine zones, where world-renowned vintages like Barolo, Barbera, and Barbaresco are made, among other native wines. In the mountains are classy and challenging ski resorts where the region hugs France and Switzerland. To the east is the Lakes District, with magical Lake Orta and fabled Lake Maggiore (or at least half of it) within the boundaries of Piemonte.
There are elegant palaces, solid castles, and interesting museums aplenty amidst the beautiful landscapes of peaks and hills. Over near the Lombardy border the land flattens out and turns to plains, where fertile fields grow the rice used for risotto and other produce for the Italian table. White truffles and garnet wines, along with one of Italy's most famous sparkling wines, Asti Spumante, are all prized products from Piedmonte. Farmhouses surrounded by vines and fields are a lovely sight while driving around the region, and the country inns that feed you well with goods from their labors can't be beat.
The Lakes are a great diversion and popular respite spot, with jaw-dropping views and soul-soothing tranquility. Lake Orta with its intimate setting and pretty little island shouldn't be missed. The north side of the lake is home to stylish housewares products manufacturers Alessi, Bialetti and Lagostina, in case you're in the mood for a bit of shopping -they're sleek souvenirs that will last you a lifetime.
Piedmont's position makes it a great choice for a holiday, with Liguria across the Apennines, France and Switzerland bordering it, and the Milan airport close at hand. It is Italy's second largest region, so it offers a lot within its boundaries, and the hospitality and genuine feel to the place will remain in your heart as the landscapes will remain in your mind.
Been there? Done that? Share your experience and tips!
Haven't visited yet? Have questions about Piedmont? Ask them here!