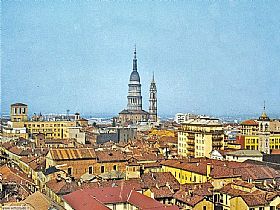 A lively city that sets itself apart from nearby Milan, Novara has a monument-filled historic center and hip city vibe. With 105,000 residents, it's the second largest city in Piedmont, after Torino. Founded by the Ligure people then settled by the Romans, Novara has always been a crossroads city between Torino and Milan, and Genoa and Switzerland. The city was sacked by Attila the Hun in 452. It was taken over by the Lombards, then the viscounts of Milan, the Sforza family, and finally the house of Savoy. When Napoleon invaded Italy, Novara passed over to France until the Unification of Italy.
There are plenty of palaces to attest to its years of grandeur, along with art-strewn churches and interesting museums. Don't miss the the Basilica of San Gaudenzio - in fact, you can't miss it, the tall dome is a distinguishing feature of Novara's skyline! Reaching 397 feet tall, it is decked with levels of columns and capped by a lantern. The cathedral, on the other hand, is built in neoclassic style over the site where a temple to Jupiter once stood. Inside are Byzantine mosaics and rose-hued marble columns. Outside it is outlined with colonnades on every level. Next door is the hexagonal baptistry; built in the 6th century, it is the oldest building in Novara.
The Cortile del Broletto is a charming courtyard wedged between palaces, a cultural hub of the city. Here in these palaces you'll find the city hall, the civic museum, the Gallery of Modern Art, and the Natural History Museum. Just a few steps over in Piazza Cesare Battisti, also known as the Piazza delle Erbe because it has, for centuries, been the home of the city's vegetable market, you'll find Novara's geographic central point. If you look hard you'll also find another local oddity: a triangular stone embedded in the pavement of the piazza. This one stand-out gray and white granite stone is said to bring good luck to anyone who finds it and touches it!
Been there? Done that? Share your experience and tips!
Haven't visited yet? Have questions about Novara? Ask them here!
Explore nearby towns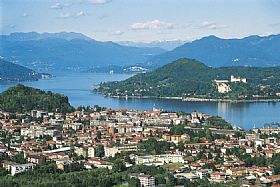 The pretty town of Arona sits lazily on Lake Maggiore.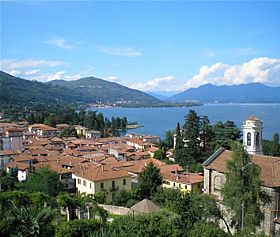 Meina is a graceful town on the shores of Lake Maggiore.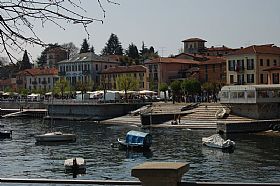 Lesa is a lovely little town on the shores of Lake Maggiore, halfway between Stresa and Arona.