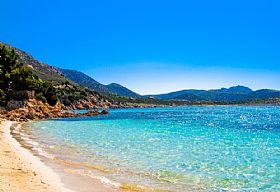 Italy's second largest island has been described as a place where time stands still. That's not just because you can idle away the days on the beautiful beaches, but because its remoteness and harsh landscapes have preserved Sardinia's long-held traditions. Today's Sardinia is a study in contrasts, with super-stylish resorts, family-oriented activities and a rural way of life that continues unabated. In Sardinia, you'll see billionaires and movie stars, burly fishermen, and simple shepherds all in the same day!
Ancient cultures mingle with modern pleasures: the mysterious Nuraghi people left more than 8,000 conical-shaped structures scattered around the island to ponder their existence and their habits; Punic and Roman ruins remain as testimony of their presence in Sardinia; the Phoenician seaport of Sant'Antioco goes back millennia; and marks were left by Genoans, Pisans, Ligurians and Spanish occupants through the centuries. Set as close to northern Africa as it is to the Italian peninsula, Sardinia has a melding of cultures and flavors.

But above all Sardinia is known for its natural splendor. You'll quickly see why it's been named one of the most beautiful islands in the world, with its craggy coastline, sandy coves, transparent turquoise sea, rocky peaks and dramatic landscapes. This is no boring tropical isle! You'll find an abundance of outdoors activities – from water sports to hiking, mountain biking to golf, along with hiking, horseback riding and spelunking. Eagles, seals, flamingos and wild boar inhabit the place, along with a unique and varied flora.

The cities and towns offer a vast variety of atmosphere. The main city of Cagliari retains diverse districts, a plethora of museums, formidable towers and a Roman amphitheatre. Alghero has a maze of lanes inside the ancient city walls with gorgeous sunsets from the ramparts. Sassari is an inland city with Gothic and Baroque buildings mingling with pretty piazzas. Baunei boasts some of the best beaches on the island, and the glittery, renowned Costa Smeralda buzzes with chic boutiques, luxury hotels, and swanky clubs that attract the jet-set and famous from around the world. Spas, golf courses, crystal-clear seas, inland villages and pretty peaks make Sardinia an ideal destination with something for everyone!
Been there? Done that? Share your experience and tips!
Haven't visited yet? Have questions about Sardinia? Ask them here!