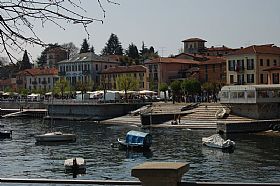 Lesa is a lovely little town on the shores of Lake Maggiore, halfway between Stresa and Arona. It is a placid place with beautiful views and a relaxing atmosphere. The town and surrounding area are full of extravagant villas and palazzi, with gardens and distinctive architecture, demonstrating that Lago Maggiore was populated by noble families, and is still a getaway for the wealthy. Villa Campari, built by the family of Campari liqueur, is one of the many properties owned by former prime minister Silvio Berlusconi but there are many other gorgeous properties all over the countryside and villages here. Stresa and Lesa have long attracted writers and intellectuals, and here in Lesa is a museum dedicated to Alessandro Manzoni, a poet and novelist, best known for I Promessi Sposi (The Bethrothed).
On the lakeshore are the ruins of a castle that once guarded the town. There are several ancient churches to visit, including San Sebastiano, dating from the 1100s, and San Martino, dedicated to the town's patron saint, which was already in existence in the 1200s when an alliance was signed here between the city-state of Milano and the local nobility. The Church of San Giorgio was built in the 1100s and has a beautiful bell tower still intact, with a lunette carved with the saint slaying the dragon. A newer Baroque section was added in 1764.
The location in the mid-portion of Lake Maggiore is convenient to reach notable towns like Stresa and Arona. Lesa is on a spur in the lake providing it with nice little beaches and lovely views. Across the lake are Ispra and Ranco, two shorefront towns that are in the region of Lombardy.
Lesa has an active life with a population of about 2400, making it peaceful and yet offering services and restaurants. There are abundant outdoor activities available, both on the water and in the hills and mountains surrounding Lago Maggiore.
Been there? Done that? Share your experience and tips!
Haven't visited yet? Have questions about Lesa? Ask them here!
Explore nearby towns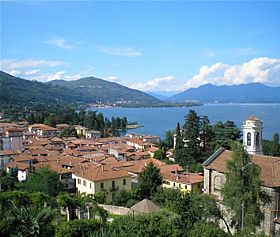 Meina is a graceful town on the shores of Lake Maggiore.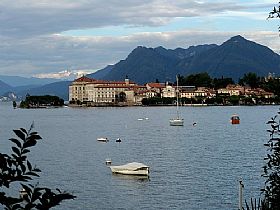 Stresa is a picturesque town on Lake Maggiore, in a nice setting.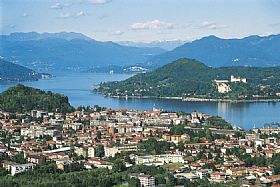 The pretty town of Arona sits lazily on Lake Maggiore.