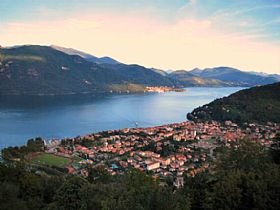 Wedged between mountains, Lake Maggiore is a splendid glacial basin fed by rivers on the Italian side of the Alps. This breathtaking alpine location offers the best of both water sports and mountain activities. It is part of the scenic "Italian Lakes district" that skirts the border of Switzerland, that includes Lake Como and Lake Garda in its gorgeous trifecta. Here you'll find spectacular scenery, alpine ambiance, Swiss order and Italian warmth.
Despite the elevation, Lake Maggiore enjoys a fairly mild Mediterranean micro-climate where beautiful gardens and exotic plants flourish. Visit some of these glorious green-lands, many of them attached to lavish villas. There are freshwater beaches, ferries and boat rentals to enjoy the placid water, and biking, hiking and horseback riding in the hills. There are lovely clustered villages dotting the hillsides and shoreline, with opulent villas from a bygone era scattered about, too.
Despite its name, Lago Maggiore is the second largest lake in Italy and extends for about 50 kilometers across the Swiss border. At 193 meters above sea level, it's that nation's lowest elevation point. Its waters also straddle two regions -Lombardy and Piedmont, which maintain Italian character but with a healthy dose of French influence, as well. The gorgeous setting knows no borders, though – it is beautiful as it flows between the hills and ripples along the valley. No matter the time of day, it is undeniably alluring.
A particularly attractive feature is that Lake Maggiore is sprinkled with intriguing islands, known as the Isole Borromeo, for the influential Borromeo family, that still owns and maintains palaces on two of them. Isola Madre has a 16th century palace and botanical gardens that cover a good portion of the carefully cultivated island. Isola Bella has an elegant and sprawling Baroque palace and terraced gardens. Isola dei Pescatori (island of the fishermen) is the only one with a year-round population – 32 hearty souls reside here along the cute cobbled streets and keep the fishing traditions alive. Stresa is the elegant town which has attracted writers and artists for more than a century. Ernest Hemingway set a pivotal scene in Farewell to Arms here. Varese is the largest city on the lake, with urban services and cultural events. A fun outing is the Lago Maggiore Express, a combination rail-ferry trip that starts in Stresa on a normal train, switches to an historic narrow gauge that scales the passes, bridges and tunnels to Locarno, Switzerland, and then returns by way of a ferry.
There is much to appreciate in the area's cuisine, which takes cues from Italy, France and Switzerland. This is a rice-growing region, so you'll find creamy risotto just as commonly as pasta. They produce excellent cheese and noteworthy wines. And of course freshwater lake seafood figures prominently on the plate, though mountain fare slips into the kitchen, too. Enjoy pre-dinner drinks on a terrace overlooking the rippling water, letting stress melt away with the gentle lap of the waves, then head to a trattoria for a full meal of typical dishes. Stroll along the lakefront promenade afterwards, and you'll think you've arrived in paradise!
The Lakes provide a beautiful setting for relaxing and enjoying the beauty of Mother Nature, with plenty to do for those who like to be active, and plenty of places for those who prefer tranquility and unwinding.
Been there? Done that? Share your experience and tips!
Haven't visited yet? Have questions about Lake Maggiore? Ask them here!