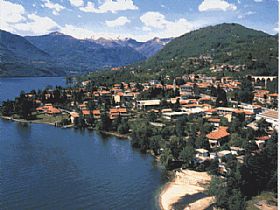 Pettenasco is a lakeside town that enjoys a fairy tale setting. On the banks of Lake Orta, it rests at the foot of the alpine hills at looks out over crystalline water at a tiny island. Lake Orta is west of Lake Maggiore; it is the least known of the lake region and is the only one entirely in Piedmont.
The town maintains a population of about 1500 people, who warmly welcome visitors who come for the natural beauty, the laid-back atmosphere, and the outdoors activities. There are beaches to enjoy, water sports, and ferries that ply the waters of the lake. The surrounding mountains have abundant trails for hiking. Golf enthusiasts can drive over to Stresa on Lake Maggiore to take advantage of two alpine golf clubs there.
The area is beautiful so bring your camera! Fishing is still active here, and there are vineyards where you can taste the local wines. The bigger and better known wine country of Piedmont is nearby, too. In town, there are shops and restaurants. The church of Santi Audenzio e Caterina was built on the site of an older chapel that dates to the 12th century, while the restoration is from the 17th century. The Romanesque church has a pretty portal is flanked by two bell towers; one is the oldest tower in the region built of irregular stones, while the other newer tower was put up in 1792. A museum is dedicated to the town's once-thriving wood-working industry, with displays of household items, mill wheels and tables among the traditional crafts.
The most panoramic point on the lake is Punta della Crabbia, where you can see from north to south. Orta San Giulio is a quaint town of pretty pastels, called "God's watercolor" by Italian writer Piero Chiara. Wander among the colorful cluster of homes in the charming lanes. In front of it is the beautiful Island of San Giulio, which legend says was once a barren rock until the saint miraculously walked on his cape across the water and founded a monastery there. The basilica that contains his tomb is rich in frescoes and paintings and worth a visit.
Pettenasco is in the province of Novara, about 40 kilometers from that city. You can visit the lake district from here, tour around the wineries, enjoy the splendid vistas and enjoy the great outdoors.
Been there? Done that? Share your experience and tips!
Haven't visited yet? Have questions about Pettenasco? Ask them here!
Explore nearby towns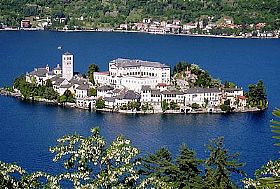 Orta San Giulio is a quaint town of pretty pastels, called "God's watercolor" by Italian writer Piero Chiara.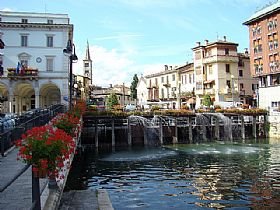 Resting in a glacier valley on the north side of Lake Orta, Omegna is a vibrant town that is worth a visit.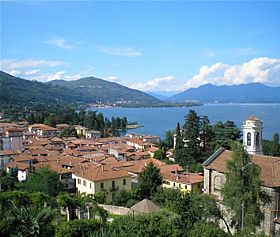 Meina is a graceful town on the shores of Lake Maggiore.