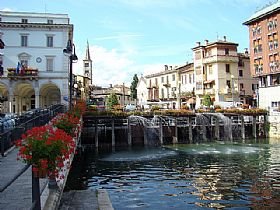 Resting in a glacier valley on the north side of Lake Orta, Omegna is a vibrant town that is worth a visit. With 15,000 inhabitants, it's the most populous town in the area, giving it a lively and lived-in feel. There is some industry to keep the economy humming and the city prosperous. Stretching along the lake and a river, there are incredible views to enjoy of the green-covered mountains that plunge to the lake. The river is flanked by pastel buildings adorned with overflowing flower boxes and a pleasant river-walk. There are plenty of shops, cafes and restaurants to enjoy along the streets and piazzas.
Omegna is home to high-end housewares by designers like Alessi, Bialetti and Lagostina, so you'll find plenty of style (and some deals at their outlet stores!). It was a center for the partisan resistance movement in this area durnig WWII. But the city actually has ancient origins, with its first mention coming in a stone military inscription dating back to the 4th century BC. Archeology finds say that the area was inhabited in the Bronze Age. In the 1st century BC, the Ligure people arrived from across the mountains. Then the Celts, the Romans, the Barbarians -even Attila the Hun- descended into this valley. There was a series of rulers from the Franks to the Longobards, before it became the feudal domain of noble lords (which included the powerful Borromeo and Sforza families).
Sometimes called the Riviera di San Giulio, for the early Christian saint who is buried on the island in the lake, this area enjoys a summer resort feel but remains relatively unknown in favor of the bigger lakes. Enjoy the atmosphere of old world charm and natural beauty, along with the cultural events that take place here. Summer festivals and concerts are routine.
You can arrive by boat from Orta San Giulio or Pella. There are buses from Novara and Arona, and trains from Novara to reach Omegna.
While in Omegna, visit the Forum Museum for a glimpse of the city's history, then look inside the Church of Sant'Ambrogio, a Romanesque structure with a redone Baroque interior. The Porta Romana (also known as Porta della Valle) is the one one of the five protective gates still remaining, and the Ponte Antico still spans the river, as it has for centuries. If you like designer housewares and cookware, be sure to go to the Alessi Outlet, the Bialetti Outlet and the Lagostina Outlet!
Been there? Done that? Share your experience and tips!
Haven't visited yet? Have questions about Omegna? Ask them here!
Explore nearby towns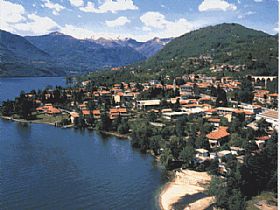 Pettenasco is a lakeside town that enjoys a fairy tale setting.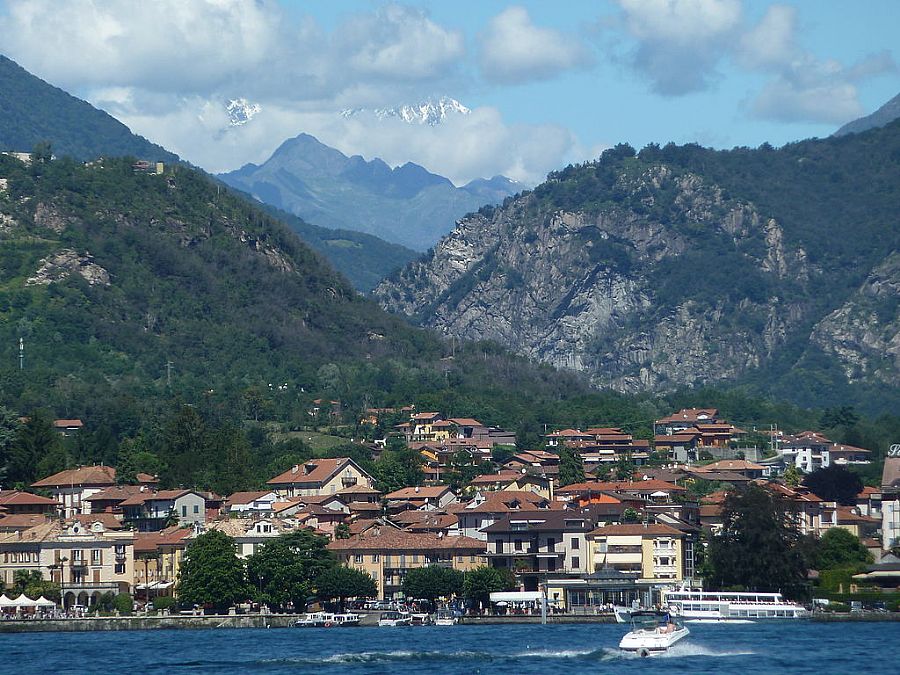 A picturesque town on the shore of Lake Maggiore north of Stresa, Baveno faces the romantic Borromean Islands and backs to the green hills surrounding the lake.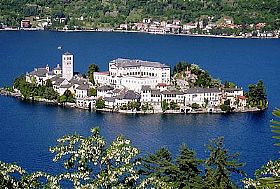 Orta San Giulio is a quaint town of pretty pastels, called "God's watercolor" by Italian writer Piero Chiara.