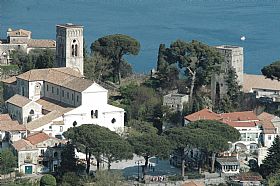 Ravello is one of the most charming towns on the Amalfi Coast. It offers some of the best views of the famous coastline, with sweeping seascapes and breathtaking scenery. It is, in short, an ideal location. While the origins of Ravello date back to the Roman era, it was the Middle Ages that gave it wealth and status, when the inhabitants were involved in maritime trade with the Orient. The newly enriched families of that age built castles, villas, churches and civic buildings to show off their wealth and to rival their richer, influential neighbor town of Amalfi. Amalfitans gave Ravello the name, "Rebellum" (rebel).
The town's villas offer vivid vantage points for the views. Villa Cimbrone and Villa Rufolo are famous for their encompassing panoramas. Villa Rufolo inspired the composer Wagner when he wrote his famed opera, Parsifal. Ravello is still known for its musical events, including the Ravello Festival, which is strongly connected to the composer and his symphonies. The town boasts its cultural roots, too; just stroll the alleyways, enjoy the architecture and piazzas to see the town's history and pride at its best.
The Cathedral, dedicated to San Pantaleo, was inaugurated in 1087. The simple facade hides a lovely church with a grand 12th century entry doors and a pulpit plopped atop six spiral columns. The cathedral's museum houses sculpture and art dating back to Roman and Medieval times. Ravello is home to the fascinating little Coral Museum of Ravello, a showcase of craftsmanship in the art of the coral jewelry and decoration. The town is noted for its devotional chapels and votives that are attached to and painted on walls all over the city. Look for them as you wander the streets.
A recommended tour is to take the bus uphill, then walk back downhill to Amalfi. There's a nice path alongside a stream between Amalfi and Ravello and it is well signed on the maps. Have lunch in Ravello and then walk off the pasta on the pathway! The views make it well worth the effort.
Been there? Done that? Share your experience and tips!
Haven't visited yet? Have questions about Ravello? Ask them here!
Explore nearby towns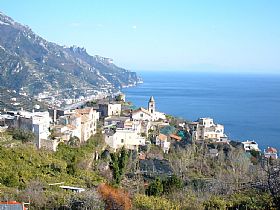 Torello sits below Ravello, overlooking the entire Amalfi Coast.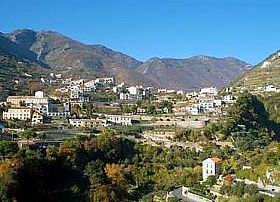 Located a a short walk from Ravello below the Lattari Mountains, Scala faces the Valley of Dragone.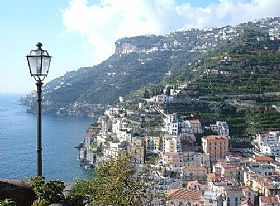 Minori is an attractive and uncrowded seaside town at the centre of a wide cove on the Amalfi Coast.