Extraordinary Jubilee Year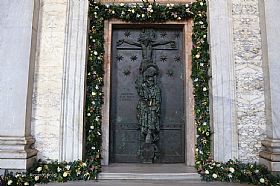 Pope Francis inaugurated a special "year of mercy" by opening the Holy Doors for an Extraordinary Jubilee Year, which will run from December 8, 2015 through November 20, 2016. The focus according to the Pope is a Holy Year of Mercy, to receive blessings and pardon, and the remission of sin to penitent hearts. For centuries, papal indulgences have been bestowed on jubilee years for those who make a pilgrimage to Rome and walk through the Holy Doors.
For the first time, the Pope has extended it to a worldwide Jubilee, with other cathedrals and parish churches opening holy doors around the world for those who cannot make a pilgrimage to Rome, and to symbolize that God's mercy extends to the far reaches of the earth. Many faithful still want to make a pilgrimage to Rome during this period, however, to experience the Jubilee in the Vatican, the home of the Catholic church.
WHAT IS JUBILEE? A Jubilee year is a special year celebrated by the church to receive blessing and pardon from God and remission of sins. It usually occurs once every 25 years, but Pope Francis declared a special Jubilee as he calls for a "season of mercy".
WHAT ARE THE HOLY DOORS? Traditionally, they are doors in the Papal basilicas that are opened only on the occasions of jubilee and then closed and sealed until the next jubilee. In Rome these porta sancta are St. Peter's Basilica, Santa Maria Maggiore, St. John Lateran and St. Paul Outside the Walls. Doors are symbolic of crossing from an old way to a new one; the church interpretation is that if you walk through the Holy Door, receive communion and seek forgiveness, you will be pardoned.
WHERE IN ITALY CAN I GO? You can find a partial list of the churches designated to open holy doors throughout Italy (and the world) at THIS LINK. No matter what region of Italy you're visiting, there will be a cathedral for the Special Jubilee. For example: Santa Maria del Fiore, the cathedral in Florence; the church of San Francesco in Arezzo; the Basilica of St. Francis in Assisi; the cathedral in Amalfi; the cathedral in Siena; St. Mark's Cathedral in Venice; Salerno's cathedral; and the Sanctuary of Granato above Paestum are all participating (to name a few).
WHAT IS THE COST? Quoting from a news article from the Vatican: "The pontiff also warned Catholics against people he called "a bit smart or too cunning" who try to charge for entry into a holy door. "You do not pay for salvation!" Francis exhorted. "You do not buy salvation. The door is Jesus, and Jesus is free!"
WHAT ABOUT INDULGENCES? DON'T THEY COST MONEY? This article explains indulgence and how to obtain one. In past centuries it was a commerce, but Pope Francis returns the concept to its original context, that mercy and forgiveness are given freely.
Learn more about the history of Jubilee in this informative article, which explains the word's meaning and the Biblical roots of the concept, along with the Catholic church's interpretation and implementation of Jubilee.
Been there? Done that? Share your experience and tips!
Haven't visited yet? Have questions about Extraordinary Jubilee Year? Ask them here!