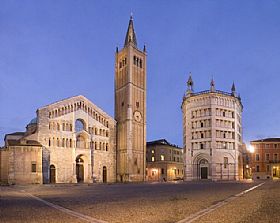 Parma is a sensational city that is a feast for the senses, from the golden hues to the aromas of the cheese, to the decadent tastes of the delicacies produced here. It is a city to see and experience, with a buzzing life thanks to its university, one of Europe's oldest, and the pride of place that its residents hold.
It is best known as a food town - think Parma ham (air-cured prosciutto) and Parmigiano cheese, and handmade pastas filled with these tasty treats. Wash it down with frothy Lambrusco or fruity Sangiovese wines produced in the area, and you'll be hard-pressed to find better dining elsewhere in Italy.
But Parma is also a cultural city with monuments and palaces, elaborately-decorated churches and world-class museums. Start with the Duomo, the city's Romanesque cathedral built in 1106 with a Baroque interior. But its the dome you'll want to gaze upon for hours with its fresco by hometown hero Coreggio who rendered a celestial masterpiece of the Assumption of the Virgin in the 1520s. His work can also be seen in the nearby Mannerist-styled church of San Giovanni Evangelista. The Duomo's accompanying marble pink baptistry is an octagonal gem.
The Pilotta Palace is a cultural hub; the former noble Farnese family palazzo is home to a bevy of museums, including the Bodoni Museum, which covers printing and graphic arts, an archeology museum, the Palatine Library, and the Galleria Nazionale art museum with works by Parmigiano, Coreggio, Da Vinci, Fra Angelico, El Greco, and more. You'll find a formal garden and the wood-lined Teatro Farnese here too. Parma's Teatro Regio is a world-class opera house with a frescoed ceiling, enormous crystal chandelier, and plush velvet logge boxes and seating in a horseshoe shape. Performances are still elegant affairs in the city where composer Giuseppe Verdi was from. The refined Parco Ducale is a beautiful formal Renaissance garden.
To show that the city has soul, they also have the Museo del Suono (the museum of sound), a 17th century church converted into a music technology museum. There are smart shops, cool cafes, and hip wine bars. And of course, good restaurants!
The countryside surrounding Parma is dotted with castles and staked out in grapevines. It is an often-overlooked area that deserves to be explored - and tasted!
Been there? Done that? Share your experience and tips!
Haven't visited yet? Have questions about Parma? Ask them here!
Explore nearby towns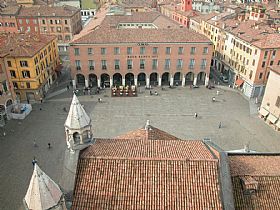 A classic historic center melds with a modern city in the heart of Emilia Romagna's Modena.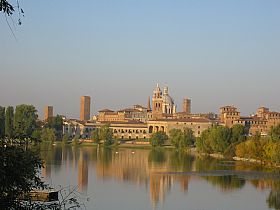 Mantova is a lovely art city, lively cultural spot and musical center for northern Italy.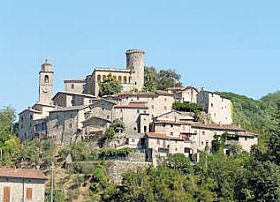 Bagnone is a dramatic-looking stone villages perched in the Tuscan Apennines.