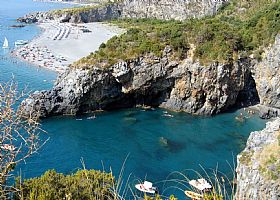 Southern hospitality, gorgeous scenery and sun-draped coastline are some of the hallmarks of Calabria. While much of the region is mountainous, the two seas that surround it are never more than an hour away from even the most remote peak. Folk traditions, craggy hill towns and beautiful, clean beaches make it a delightful find.
The sunny toe of the Italian boot is cradled by two seas, the Ionian and Mediterranean, and is punctuated by soaring rugged peaks. The southern point looks at Sicily and the smoking Mount Stromboli on an island off the coast, while inland the landscape rises dramatically to lofty mountain crags dotted with timeless stone towns. This is a land of natural beauty and undiscovered treasures.
Calabria boasts three national parks, making it an outdoors-lover's paradise with plenty of trekking trails, horse riding, biking, skiing and even paragliding for sporty types. The jagged coastline outlines the region for nearly 700 kilometers and is similar to the Amalfi Coast with cliffs, sea caves and little islands sprinkled about, with super-clean water and undisturbed coves interrupted by old pastel towns and cliff-top castles. In fact, even in the remote peaks, you're never more than an hour from the sea.
It is an almost mythical land that was part of Magna Grecia and influenced by the Arabs. You'll find spicy food and honey-spiked pastries that attest to its origins, along with an abundance of citrus, chestnuts, olives and wine. Folk traditions and religious festivals still play important parts of daily life, even in the cities. Reggio Calabria, Cosenza, and Tropea offer buzzing life and culture along with distinctive Calabrian life, while the villages carry on the Old World ways in a slow pace and sense of community. There are even some exotic Albanian villages, populated by religious exiles centuries ago that still retain the costumes and dialect of their ancestors.
In Calabria you can enjoy pristine nature or beautiful beaches; see Greek sculptures, Roman mosaics, Byzantine churches and Saracen towers; ski on powdery slopes or swim in turquoise seas. It's a varied land of treasures waiting to be uncovered.
Been there? Done that? Share your experience and tips!
Haven't visited yet? Have questions about Calabria? Ask them here!